Perth Amboy Pallet Rack.  Proudly Serving NJ since 1909. Made in the USA, Stocked in Perth Amboy.  Complimentary Code Compliant Layouts, Quick Quotes, Professional Installations. Madsen & Howell delivers from our 109,000 SF warehouse on Market St in Perth Amboy. The most popular rack in the United States is called Tear Drop. Tear drop is the Industry Standard,  Racks and beams are compatible with existing tear drop rack systems previously installed. Bowlock Safety Clips securely locks the beams in place.Uprights to 46′ high, made In America with U.S. High Strength Steel. Standard colors are green uprights with orange beams. Call Now, Knowledgeable staff always available (732) 956-8989.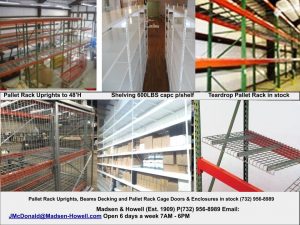 The other popular type of Rack is called Keystone, Which is also available at Madsen & Howell. Wire deck for Rack beams also in stock. Designed to lay perfectly in the beams channels. Stocked in 12 standard sizes. Solid decking in Steel is also stocked in Perth Amboy. The solid decking is designed to sit securely in the pallet rack step beams and is anchored in place by our factory authorized installation crews. Our inventory includes bracing to keep the rack off the walls so the pallets can overhang the beams if needed and not touch the warehouse walls. back to back pallet rack units can be braced together, Creating a gap in between the racks for pallet placement that doesn't touch the pallets nearby.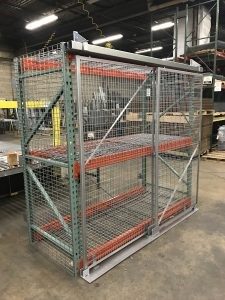 We also stock Divider partitions for racking. Made in several sizes.Contact us for information regarding our pallet / box dividers made with galvanized wire deck.
Ideal for keeping specific inventory separated on the wire deck. Our Rack Specialists provide Complimentary layouts six days a week.  Contact us now for immediate assistance Sales@LockersUSA.com