Lockers Lakewood NJ. Metal Lockers in Lakewood. Ideal for Work, Schools, Gyms. Stocked Locally, Free On site layouts, Quick delivery and Professional installations. Lowest overall cost and Best Warranty possible. P.  (888)963-5355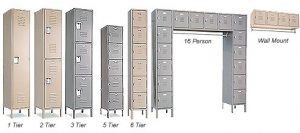 Stocked in Single Tier, Double Tier, Triple Tier and Box Lockers in 5 complimentary colors. Built to last with the best warranty in the business. LockersUSA.Lakewood team provides on site, Space saving, Code Compliant Layouts six days a week. Lockers can be delivered with flat tops, Sloping tops, Closed in legs bases, Z bases and filler panels. Finished ed panels are also in stock for the end of each row. Lockers Lakewood provides recessed handles with a welded hasp for padlocks. Builtin Combination locks can also be delivered and installed. Combination Locks can be key controlled. Each locker comes with 5 different combinations that can be easily changed as lockers are reassigned. Control charts are provided detailing the locker number, Current users name, Current combination number and 4 additional combination numbers for future use. Master Keys are provided to management. P(888)963-5355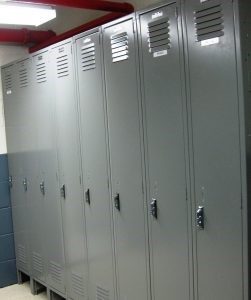 If your other lockers has combination locks we can match the existing system.  Determining the type of locker to choose depends on the number of lockers needed and space available. Depth of lockers depends on available space also. 12″ wide x 18″ deep x 78″ high is the industry standard nationwide. 18″ deep is ideal for backpacks, pocketbooks, Laptops, etc.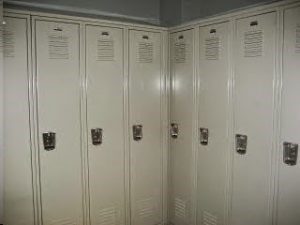 When buying lockers consider ordering the lockers with a Antimicrobial finish. Manufactured to resist the spread of bacterial over 20 years. Protecting Lockers users from serious illness and lost days. Contact us today for immediate assistance. Sales@LockersUSA.com Or Phone (888)963-5355.
Lockers Lakewood NJ, Lockers Lakewood, Metal Locker Lakewood, Metal Lockers Lakewood NJ, Steel Lockers Lakewood Twp, Lockers NJ, Lockers delivered daily to Lakewood, Toms River, Lakehurst, Manchester, Jackson, Point Pleasant, Howell, Wall Twp, Manasquan, Monroe Twp, Freehold, Colts Neck, Marlboro, Old Bridge, Brick, Hamilton, Belmar, Spring Lake, All of New Jersey.