DEA Cages NJ, Storage Cages for the Retail Cannabis Dispensary. Located in Central New Jersey, Our distribution center stocks Cannabis cages for Retail, Medical Cannabis Dispensaries and Pharmaceutical Industry.  Proudly serving NJ since 1909 we pride ourselves in providing the lowest overall cost, With the best warranty in the industry. We have a long track record of having our DEA Compliant cages passing inspection the first time. Eliminating stress with our fast, reliable, friendly service. Our Dispensary specialist are available six days a week either by phone (917) 701-5795 or email Sales@LockersUSA.com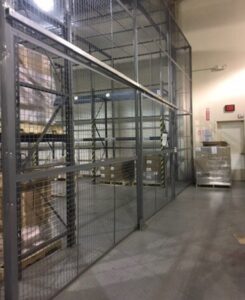 Retail Cannabis Dispensary Cages must meet DEA Code to become compliant and pass inspection. Our Techs can build any size cage with our standard prefab welded wire cage panels and doors. We encourage all Retail outlets to utilize our space utilization ideas. Your space will fill up quickly, Utilizing every square foot is key. Use you vertical height Ask our techs how to store twice the amount of cannabis in your storage cage by 50% cost effectively.
DEA Cages NJ need to be four sided with a ceiling. The door can be either hinged or sliding and be self closing. We suggest consider a slide door to save space outside the cage.  Our team provides Complimentary Cannabis Cage Layouts either online or onsite. Feel free to use our quick layout form in the link above or call us for immediate assistance P(917) 701-5795 Monday through Saturday 7AM to 9PM.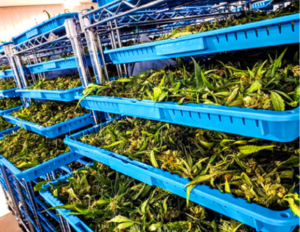 LockersUSA of New Jersey also has Cannabis Drying Trays and Racks. Quickly and consistently rotate & document the rotation process versus manual rotation. The patent pending clamshell rotation process for efficiency allows for the protection of delicate product, as well as, complete rotation for superior drying. Trays are 18"w  x 26"L  x 1.25"H, 2lbs, Made in Polypropylene in blue.  Contact us today for immediate assistance Sales@LockersUSA.com