Conveyor Guarding Safety Cage. Proudly serving NJ since 1909. Conveyor Barrier Safety Fence helps prevents serious injuries and become code compliant. Complimentary on site layouts. 2-3 day delivery and installation.  Our Modular design makes all configurations standard. Stocked in 6 code compliant heights. Our Conveyor Barrier Guarding specialists will provide complimentary layouts and Code Compliant Guidance either on site or online. Sales@LockersUSA.com or P(917) 701–5795.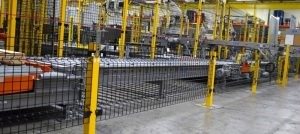 LockersUSA stocks Conveyor Safety Fence and Machine Guarding Perimeter Safety Cage in New Jersey. Machine Guarding – Safety Fence is ideal for enclosing Electrical equipment, Moving machinery and creating perimeter barriers and guarding for robotics. Our Guarding specialists can be reached for immediate assistance 5 days a week 7AM – 7PM. Sales@LockersUSA.com or Phone (917) 701-5795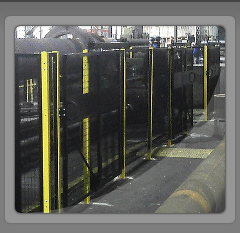 Safety Fence is ideal for Guarding Conveyors and Automated Machines and protecting workers. LockersUSA.com provides quick delivery, Materials in stock locally in our 209,000 sf New Jersey facility. Manufactured with either 8ga or 10 ga welded wire mesh. with 1-1/2″ x 1-1/2″ grid openings and 14ga steel angle frames. Posts are interchangeable as our our posts. Six door styles to choose from. Plus lock and powder coat color options.  Perimeter safety cages requires no change to heating, cooling, lighting or sprinkler configurations.

Permits unobstructed views and security. Versatile design allows for easy expansion or removal when needed.  LockersUSA takes the stress out of meeting compliance for OSHA, ANSI, MAAMS, EN953, and Canadian regulations. Contact us today for immediate assistance. Sales@LockersUSA.com or P(917) 701-5795.
Conveyor Guarding Safety Cage NJ, Conveyor Barrier Guarding Safety Fence NJ, Conveyors Machine Guarding Safety Cage NJ, Conveyors Safety Fence Machine Guarding NJ, Conveyor Machine Guarding Perimeter Fence, Robotic Guarding Security Cages NJ, Lathe Machine Guarding Cage NJ, Safety Fence NJ, Machine Guarding Perimeter Cages New Jersey. Conveyors Machine Guarding Safety Cage NJ delivered daily to Newark, Jersey City, Linden, Carteret, Piscataway, Robbinsville, South Plainfield, Woodbridge, Edison, Toms River, Trenton, Cranbury, Camden, Perth Amboy, Old Bridge, Princeton, Hamilton, South Brunswick, Hazlet, Union Beach, Paramus, East Windsor, Monmouth Junction, Eatontown, Manchester, Spotswood, South River, Middletown, Colts Neck, Somerville, Branchbrook, Morristown, Mahway, Totowa, Clifton and all of New Jersey.