Wire Partitions Brooklyn. Woven and Welded  partitions and cages in Brooklyn. Free layout assistance. Have installed this week. Professional installations, All at the manufactured in 1-1/2″ diamond weave and 2″ x 2″ welded wire mesh. Standards heights from 6′ high to 30'H. In stock for quick delivery doors in swing, double swing, sliding, double dutch. With welded hasps, cylinder locks, magnetic locks, card swipe, push button and key fob. All our partitions wire and frames are made with heavy gage steel in 5 standard colors. Standard sizes can be delivered and installed in 4-5 business days. P(917) 837-0032.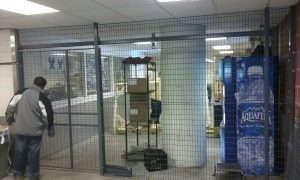 LockersUSA.com stocks partitions, Security Cages, DEA Pharmaceutical cages, Tenant Storage Cages, Data Room and Server cages, Machine Guarding and Equipment Cage enclosures. All available in less than 1 week. Stock standard colors gray, black, galvanized. 6 other standard powder coat colors also available with a 4 week lead time. Out team can also modify your existing cages or repair them quickly when needed. Contact us for immediate assistance. P(917) 837-0032.  or email us Sales@LockersUSA.com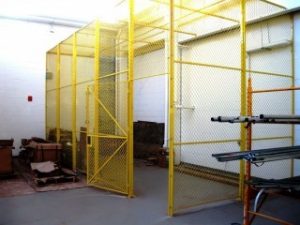 Our Brooklyn office provides complimentary on site layouts. If you prefer fill our our Complimentary Layout form and we will respond immediately with pricing, layout and cost saving suggestions. Save money when designing a cage by incorporating common back and or side walls.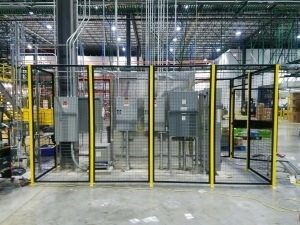 Machine Guarding and Equipment Enclosure cages stocked locally in 16 standard sizes. Designed for opening and closing during maintenance work. Contact us today for immediate assistance. Our office is open Monday – Friday 7AM to 6PM. Saturdays until 4PM. Sales@LockersUSA.com or P(917) 837-0032.
Wire Partitions Brooklyn, Wire Partition Cages Brooklyn, Welded wire cages Brooklyn, Woven Wire Partition Brooklyn, Safety Fence Brooklyn, Woven Wire Partitions Brooklyn NY.