Warehouse Shelving NJ. Free on site layouts, Lowest overall costs, Quick Delivery.Fully adjustable shelves, No nuts or bolts, Local stock. P(917)701-5795. Weight capacity to 650 pounds and more.  Shelving can be delivered with closed in backs and sides or open backs and sides with cross bracing. Standard heights to 24′ high, Standard stocked widths 36″, 42″ and 48″ wide. Shelving depths from 12″, 15″, 18″, 24″, 36″, 42″ and 48″.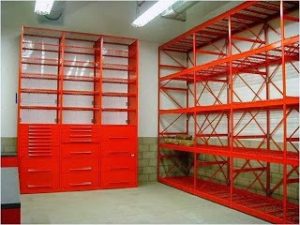 Warehouse Shelving NJ, available in 5 standard powder cost colors. Drawers from 3″ high to 12″ high can be installed in the shelving and doors in full height to 8′ or half doors can be delivered and installed with the original order or later for increased security.  Warehouse Shelving NJ also stocks Bulk Rack and Pallet Rack.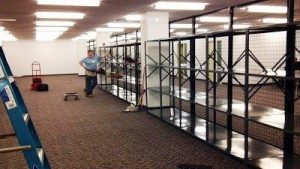 Bulk Rack provides increased weight capacities up to 4500 lbs per level and widths up to 12″ wide. Designed for storage of boxes – bins of various sizes , Hand loaded. Decking can be solid steel corrugated shelves or wire decks.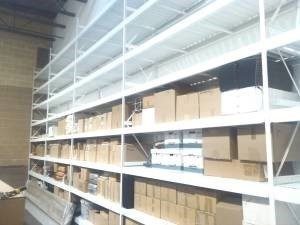 Additional levels of beams can be added quickly. also stocked locally is shelving for retail display, archive storage, Pallet Racking, Modular Drawers and Plastic and metal bins.  Our facility is open Monday through Friday 7AM – 5PM and Saturdays 7AM – 1PM. P(917) 701-5795 or Sales@LockersUSA.com
Warehouse Shelving NJ, Warehouse Shelving New Jersey, Metal Shelving NJ, Steel Shelving NJ,  Bulk Rack NJ, Storeroom Shelving NJ, Parts Storage Shelving NJ, Chrome Shelving NJ, Archive Shelving NJ, Warehouse Shelving NJ delivered daily to Linden, Newark, Elizabeth, Paterson, Jersey City, Eatontown, Toms River, Old Bridge, Carteret, Rahway, Hazlet, Middletown, Holmdel, New Brunswick, Monmouth Junction,  all of New Jersey.