Tenant Storage. Welded Wire Tenant Storage Cages. Complementary on site layouts, Lowest overall cost, Generates Good Revenue, Lifetime Warranty. Tenant Storage manufactured with 4ga welded wire in galvanized steel or 5 powder coat colors. Stocked locally in Single Tier – Full height and Double Tier – Stacked. Stocked in 12 standard sizes. Custom sizes become standard with our modular panel design. Stocked with hinged doors 3′ wide and 4′ wide x 6′ high, 7′ high, 90″ high and 8'H. Heights to 12′ easily achieved cost effectively. Each door comes standard with a welded hasp for padlocks or cylinder locks with two keys. Master keys can also be provided for management.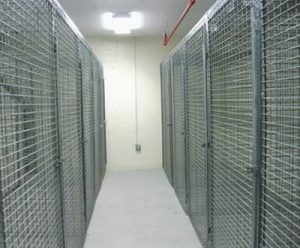 LockersUSA provides Complementary Layouts daily either onsite or online.  Storage Cages is stocked in starter units and add on units. Each row starts with a starter unit that has a door and two side panels. The add on unit attaches to the starter unit. Add on units have 1 door and 1 side. Typically  storage cages attach directly to existing walls and floors. Center aisle units have backs. Tops, Floors, Backs, Shelves can be added as an option.
Storage Cages generate excellent revenue and has one of the quickest paybacks for residential buildings. Tenant storage cages today are rented out from $75.00 to $350 per month based on size.  Storage rooms with 30 cages renting out at $125.00 per month on average will generate $45,000.00 per year in revenue. The investment typically pays for itself in less than 8 months. Delivery is quick, Normally just 15 days. Contact us today for pricing, layouts, specifications. Sales@LockersUSA.com or P(917)701-5795.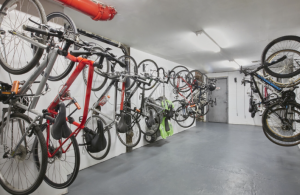 LockersUSA.com also stocks wall mount bike brackets for residential buildings, offices, parking garages. Designed to allow bikes to be spaced just 12″ apart. Manufactured with all welded powder coat steel in shiny black, Cushion – No scratch design. Each Bike Bracket #42488 comes with a 5′ long cushion coated security cable that can be wrapped around the bike frame, both rims and secured with the bike owners lock. Our team provides complementary bike room layouts, free delivery and installations at the lowest overall cost and lifetime warranty. Contact us today for immediate assistance. Sales@LockersUSA.com
Tenant Storage, Tenant Storage Cages, Tenant Storage NJ, Brooklyn, Long Island City, Queens NY, New York City,  New Jersey, Tenant storage lockers.