Tenant Storage Long Island City. Revenue Generator, Tenant Storage Cages stocked locally. Free onsite layouts 7 Days a week. Lowest overall cost, Lifetime warranty. Built to last in rust resistant galvanized and powder coat black or gray. Manufactured with framed 4ga welded wire sides and doors. 4ga is more than double the welded wire thickness of 10ga, Providing double the security at lower cost. Stocked in two popular types. Single Tier – Wall in and Double Tier – Stacked.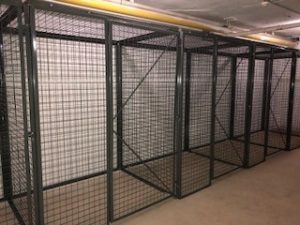 Sizes range from 3′ wide x 3′ deep to 12″ wide x 12′ deep. x 6′ high, 7′ high, 90″ high and 8′ high. Each Tenant Storage Cage has the industries only full height anti-theft lock bars. Lock options include welded hasps for padlocks or cylinder locks. Typically most residential building attach the tenant storage cages directly to the rooms walls and floors. Tops, floors, shelves and backs can also be delivered and installed on request. Tenant storage cages are sold in starter units and add on units. Starter units have 1 door and 2 side panels. Add on units have 1 door and 1 side panel. Each row starts with a starter unit, the rest of that row is filled with add on units. The units attach to each other with common side walls creating a secure, cost saving design. Backs are standard for middle aisle units. LockersUSA of LIC provides Complimentary Layouts 7 days a week either online or on site. Feel free to use the easy form in the link above or P(917)701-5795 or email us Sales@LockersUSA.com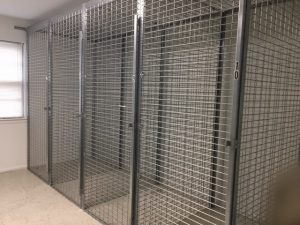 Tenant Storage Long Island City generates excellent revenue. In Long Island City tenant storage cages are usually rented out monthly by the developers, landlords, apartment buildings,  co-op and condo boards. The rental rate depends on the size averaging $75.00 to $250.00 per month. a residential building with 70 tenant storage cages renting out on average for $95.00 per month will generate $79,800.00 per year in revenue. The return on investment averages just 7-8 months. Backed with the industries only lifetime warranty, Tenant storage cages from LockersUSA.com of Long Island City is a sound investment, Long term.
Tenant Storage Long Island City, Tenant Storage Cages Long Island City Queens 11101, Tenant Storage Lockers, Basement Lockers, Welded wire Lockers NYC.