Tenant Storage Lockers Montclair. Generates Excellent Revenue. Free Layouts, Lifetime Warranty, Tenant Storage Lockers in Montclair and the surrounding Metro area generate good revenue. Developers, Landords and Condo Board charge a monthly rental fee ranging from $100.00 to $250.00 per month depending on the size. A residential building with 30 tenant storage lockers renting our for $125.00 per month would generate $45,000 in revenue per year. The lockers would pay for themselves in 7-8 months. Contact us now for immediate assistance P(917) 701-5795.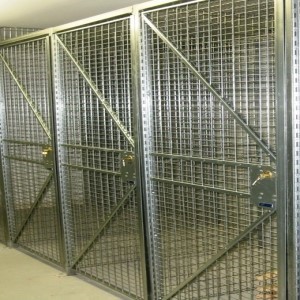 LockersUSA.com tenant storage lockers are made with Galvanized Steel in  4ga welded wire which is twice as thick as the industry standard 10GA. Doubling the security for less money. Each of our tenant storage locker comes with full height lockbars and welded hasps for padlocks. Tops, backs, floors and cylinder locks can be added at a minimal cost.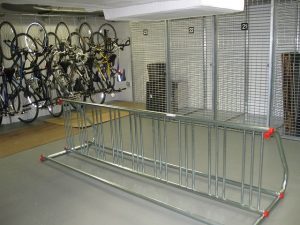 LockersUSA provides on site complimentary layouts daily to Montclair and the surrounding area. Our layouts will provide space saving, code compliant, cost saving designs. Our team provides professional installations and the only lifetime warranty in the business. Feel free to also use our online Complimentary Layout form if you choose.  LockersUSA also stocks security Cages, Server Room and Data Cages, Safety Fence, DEA Pharmaceutical Cages in New Jersey.
Our Wall Mount Bike Brackets stocked in New Jersey allow Bikes to be spaced just 12″ apart. Manufactured with all welded steel with a powder coat finish. Built to last a lifetime.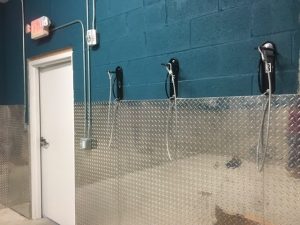 Attached to each #42488 bike bracket is a 5′ Long Cushion coated security cable that can be wrapped around the bike frame, Both rims and secured with the bike owners lock. #42488 bike bracket has the industries only Lifetime Warranty.  Our team provides daily on site layouts. Contact us today for immediate assistance. Sales@LockersUSA.com or P(917) 701-5795.
Tenant Storage Lockers Montclair, Tenant Storage Lockers Montclair NJ, Tenant Storage Cages Montclair, Tenant Storage Monclair, Wall Mount Bike Brackets Montclair NJ, Tenant Storage cages delivered daily to Montclair, Upper Montclair, Glen Ridge, Verona, Clifton, Passaic, Nutley, Belleville, West Caldwell, North Arlington, Cedar Grove, Bloomfield.