Tenant Storage Cages West New York NJ.  Complimentary Layouts, Generates excellent revenue, Stocked locally, Professional Installations. Free Delivery.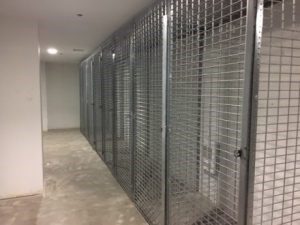 Proudly serving New Jersey since 1909. Our 109,000SF warehouse stocks single tier – full height doors and double tier – stacked doors in rust resistant galvanized, gray and medium gloss black. Doors stocked in single hinged 3′ wide and 4′ wide. Each door has a full height anti-theft lock bar and welded hasps for padlocks.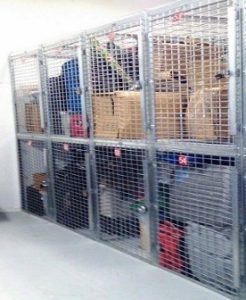 LockersUSA provides Complimentary Layouts and quotation. The code compliant layout will be space efficient and resident friendly. When planning a tenant storage cage room it is important to keep the storage cages the same size so that no resident feels slighted. Sizes can vary based on the size of the apartment. 2 bedroom rooms may need a larger cage than studio apartments. Our Techs will make suggestions on layout and size. The storage room size will also be a factor in the number of units and size. Utilize our friendly staffs knowledge. Feel free to use the link above to access the layout form or contact us for immediate assistance. Most residential buildings attach the cages directly to the rooms rear wall and floors. Tops, Floors, shelves and backs can be included on request.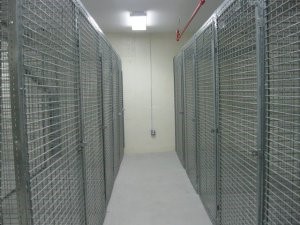 Storage Cages off the wall come with backs in the same material and color. LockersUSA's Tenant storage cages are manufactured with 4ga thick welded wire, Which is more than as thick of 10ga thick welded wire. Providing increased security at no extra cost thanks to robotics. Tenant Storage Cages Generate excellent revenue. Today most developers, landlords, Condo boards and apartment complexes charge a monthly rental fee for each cage ranging from $65.00 to $350.00 per month depending on the size. A basement with 50 lockers renting our for $75.00 per month will generate $45,000.00 per year. The cages typically pay for themselves in 8-9 months.
Our inventory also includes space saving, easy to use, Wall Mount Bike Brackets. Designed to allow bikes to be spaced just 12″ apart when space is tight. manufactured with cushion coated powder coat steel in a medium gloss shiny black finish. #42488 allows bikes to be locked in place. Attached to each bracket is a 5′ long cushion coated security cable that can be wrapped around the bike frame and secured with the bike owners lock. Contact us today for a Complimentary Bike Room and or Tenant storage cage layout and quote. Sales@LockersUSA.com
Tenant Storage Cages West New York NJ 07093, Tenant Storage Lockers 07093, Wall Mount Bike Racks West New York NJ,  Wall Mount Bike Brackets West new York NJ 07093. Tenant Storage cages delivered free to West New York, Union City, North Bergen, Cliffside Park, Secaucus, Harrison, Newark, Jersey City, Lyndhurst, Hackensack, Teaneck, Paramus, Englewood, Tenafly, New Jersey.