Tenant Storage Cages Somerset. Generates  excellent  revenue. Free layouts, Quick Delivery, Lifetime Warranty.   Providing Tenant storage in your building is a win – win. Tenant storage cages pay for themselves in 7-8 months on average. Converting underutilized basement space into a tenant storage room will create a maintenance free revenue generator. Rental rates in 2017 for tenant storage cages in Somerset range from $125.00 to over $250.00 per month. If a 20 unit residential building rents out tenant storage for averaging $145.00 per month. The cages will generate $34,800.00 per year in revenue. Standard size cages also are a sought after amenity for potential residents. LockersUSA.com provides complimentary layouts that will save you space, money and be code compliant. Backed with the industries only lifetime warranty.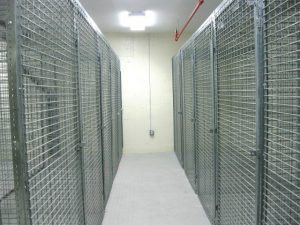 Stocked in durable galvanized steel, Powder coat black and gray in Single tier – walk in type and Two tier – stacked one locker above the other.  When shopping for tenant storage cages look for local vendors that will provide complimentary layouts, Have local installations in your neighborhood to inspect. Price is always a major factor as long as its backed with a lifetime warranty for the lockers and installation.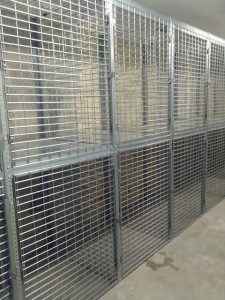 Our tenant storage specialists provide complimentary onsite layouts six days a week for your convenience. Quick deliveries, Professional installations and lifetime warranties at the lowest overall cost. Give us a call, Our office is open 7AM to 7PM Monday – Friday and Saturdays until 1PM.  P(917) 837-0032 or email Sales@LockersUSA.com we will respond immediately.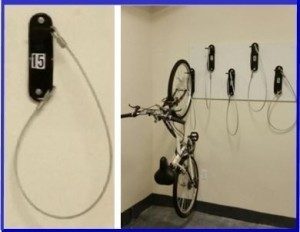 LockersUSA also stocks the most space saving wall mount bike brackets in the industry. #42488 wall mount bike brackets allow bikes to be spaced just 12″ apart. Easy to use, Minimal lifting while keeping the bike room floor clear of bikes. Our team provides complimentary bike room layouts six days a week.
Contact us today for immediate assistance Sales@LockersUSA.com or P(917) 837-0032. Or fill out our complimentary layout form.
Tenant Storage Cages Somerset, Tenant Storage Cages Somerset NJ, Tenant Storage Lockers Somerset, Tenant Storage Cages daily deliveries to Somerset, Somerville, North Brunswick, New Brunswick, Franklin Twp., Princeton, Monmouth Junction.