Tenant Storage Cages North Hempstead. Generates Good Revenue, Free Layouts, Lowest overall cost. 5 Year Warranty. Tenant Storage Lockers generate excellent revenue, By converting a previously underutilized room into Tenant Storage Space creates immediate revenue's. This year Developers, Co-op and Condo boards rent out tenant storage to residents from $125.00 per month to $350.00 per month depending on the size.  building with 50 tenant storage cages renting out on an average of $130.00 per month would generate $78,000.00 in maintenance free revenue. The lockers pay for themselves in  7-8 months.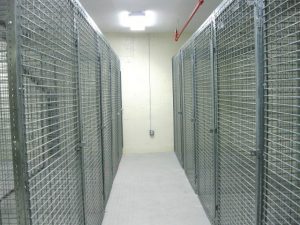 Manufactured with 4ga galvanized steel or 5 standard powder coat colors. With all welded grid openings, Welded hasps for padlocks or cylinder locks. Each locker comes with the industries only full height anti-theft lock bar.  LockersUSA provides complimentary tenant storage room layouts, quick deliveries and installation and the industries only lifetime warranty. 4GA welded wire is more than twice the thickness of other makes. providing double the security for less than the 10Ga wire on the market.
Tenant Storage Lockers come standard in all makes with starter units that have front doors either single tier – full size doors or Two Tier – Stacked. and two side walls, Add on units come with the door and one side wall unit. Each row starts with a starter unit and the row in then completed with add on units. Saving money using common walls. Tops, Backs bottom floors and shelves can be added.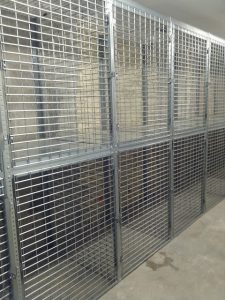 LockersUSA provides complimentary on site layouts in Staten Island daily. Or if preferred use our Complimentary Layout form and return we will respond immediately.
LockersUSA also stocks Wall Mount Bike Brackets that allow bikes to be stored just 12″ apart. Easy to use and space efficient. Each #42488 wall mount bike brackets is powder coated shiny black, We attach a 5′ long cushion coated security cable onto our brackets that can be wrapped around the bike frame and secured with the owners lock.

Our team provides complimentary bike room layouts, Professional installations and Lifetime Warranty. Providing bike storage in residential buildings in Staten Island also generates revenue, Most buildings now charge $!5.00 to $25.00 per month. A building with 50 bikes being stored with rental rates averaging $20.00 per month would generate $12,000.00 per year in revenue.  
Contact us today Sales@LockersUSA.com or P(917) 701-5795. Our office is open Monday – Friday 7AM- 5PM and Saturdays from 7AM- 1PM.
, Tenant Storage Cages delivered daily to North Hempstead, Brooklhaven, Islip, Huntington, Smithtown Long Island, Glen Cove, Hempstead, Long Beach, Oyster Bay.