Tenant Storage Cages North Bergen NJ.  Proudly serving Hudson County since 1909. Complimentary Layouts, Free delivery, Generates good revenue. Built to last with welded wire mesh in 4ga thick galvanized steel, gray and black in 48 standard sizes in Single tier – Full height and Two tier – stacked doors.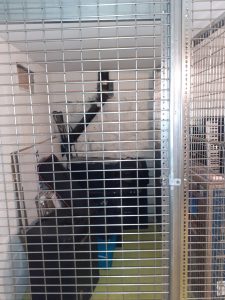 Tenant Storage Cage doors stocked in 3′ wide and 4′ wide. Each door has a full height anti-theft lock bar and welded hasp for padlocks. Most buildings have their storage cages attached directly to the rooms walls and floors. Tops, Backs, Floors and shelves can be included on request. Storage cages not on a wall have backs in the same welded wire material and color.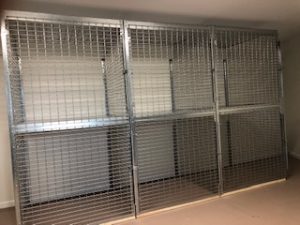 Tenant Storage Cages in North Bergen Generate Excellent Revenue. Developers, Condo Boards and Apartment Complexes charge a monthly rental fee to use a tenant storage cage. Monthly rental rates in Hudson County range from $75.00 to $125.00 per month depending on the size. A storage room with 40 cages renting out for $75.00 per month will generate $36,000 per year in revenue. They typically pay for themselves in 7-8 months when standard sized units are specified.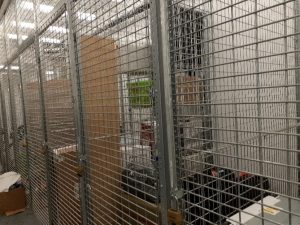 Our Hudson County Techs provide Complimentary Layouts six days a week. Feel free to use the quick form in the link above or Contact us for immediate assistance P(917) 701-5795, Monday through Saturday 7AM to 7PM.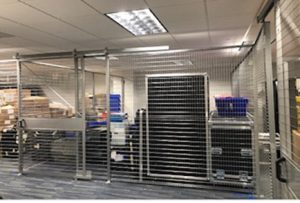 Our 190,000 square foot facility also stocks Welded Wire and Woven Wire security cages, Ideal for parts rooms, Inventory storage and Warehouse cages. We also have in stock Locking Service Window Kits that can be installed in new or existing cages to help reduce the amount of times the cage room doors need to be opened. The Service Window Kits comes with a exterior counter to sign paperwork on.
Also in stock is welded wire lockers in single tier, double tier and three tier stacked doors in several stock sizes. The lockers can have a full height rear welded wire panel or door to fill all units with equipment and supplies quickly.
Contact us today for immediate assistance P(917) 701-5795 or Sales@LockersUSA.com
Tenant Storage Cages delivered free to North Bergen NJ, Secaucus, Jersey City, Newark NJ, Rahway, Elizabeth, West New York, Union City, New Jersey