Tenant Storage Cages E 77th St NYC. Buy local, Save on shipping. Complimentary Layouts, Generates excellent revenue. Lowest overall cost, Lifetime Warranty. Proudly serving New York City since 1909.  Stocked in single tier – full height doors and double tier – stacked in rust resistant galvanized and powder coat black and gray. Sizes range from 3′ wide x 3′ deep to 12′ wide x 12′ deep. Standard heights 6′ high, 7′ high, 90″ high and 8'H. Manufactured with 4ga welded wire which is more than double the welded wire thickness of 10ga and costs less today due to its high popularity. 4ga welded wire provides increased security. Call now for immediate assistance. P(917) 701-5795.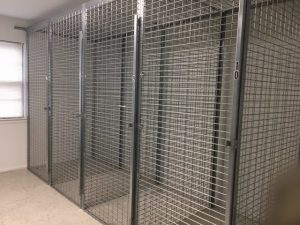 Each tenant storage cage has a full height anti-theft lock bar, Welded hasp for padlocks or cylinder lock with key. Tenant Storage Cages E 77th St NYC provides Complimentary Layouts either online or on site six days a week.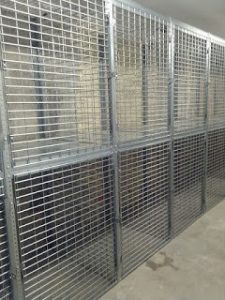 Standard Tenant Storage Cages from all manufactures typically attach directly to the rooms walls and floors. Tops, Backs, Floors, Shelves can be added as needed. Storage cages not attached to the wall come with backs.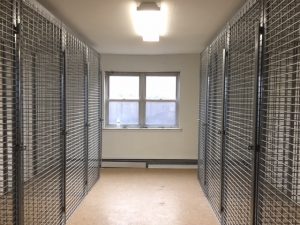 Tenant Storage Cages E 77th St NYC generate excellent revenue. Today most developers, landlords, Co-op and condo boards charge a monthly rental fee for onsite tenant storage ranging from $75.00 to $350.00 per month depending on the size. A residential building with 60 tenant storage cages renting out at $80.00 per month will generate $54,000.00 per year in revenue. The tenant storage cages pay for themselves within 7-8 months on average. Combined with the industries only lifetime warranty, Tenant Storage Cages from LockersUSA is a sound investment.
Our E 77th St office is open Monday through Friday 6AM – 8PM, Saturdays 6AM- 4PM. Sundays by appointment. Contact us now for immediate assistance. Phone (917) 701-5795 or Sales@LockersUSA.com
Tenant Storage Cages E 77th St NYC 10075, Tenant Storage Cages New York City, Tenant Storage Lockers NYC. Tenant Storage Cages delivered daily to NYC, Queens NY, Bronx, Brooklyn, Staten Island, All of New York.