Tenant Storage Cages – Bike Hooks Brooklyn.  Free Layouts, Lowest cost, Lifetime warranty. Tenant Storage Cages generate good revenue in Brooklyn. Condo's, Co-op and Apartment buildings have been adding tenant storage cage and bike storage rooms to their buildings.  LockersUSA stocks tenant storage cages and space saving wall mount bike brackets in Brooklyn. Our team provides complimentary layouts 7 days a week in Brooklyn, Queens, Manhattan. Tenant Storage Cages rent out in Brooklyn for $200.00 per month average in 2017. Developers and landlords have been adding Tenant Storage cages in unused parking spaces. a residential building with 30 Tenant Storage Cages can generate $72,000. in maintenance free revenue. The cages pay for themselves in 7-8 months.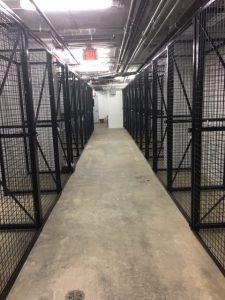 Tenant Storage Cages stocked in Brooklyn in 10GA steel with all welded frames and  grid openings. Each locker has a welded hasp for padlocks or steel encased cylinder locks. Stocked in powder coat gray or black.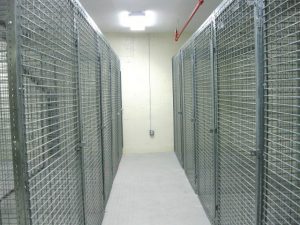 For added security at no additional cost we stock in Brooklyn 4GA Galvanized steel tenant storage cages that come standard with full height lock bars, welded hasps or steel encased cylinder locks.  Backed with a lifetime warranty on the lockers and labor. Widely used in Brooklyn is 2 Tier – stacked tenant storage cages, They are ideal for small basements with numerous apartments.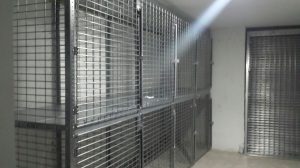 Stocked in Brooklyn in 6 very popular sizes. 3′ wide x 3′ deep x 45″ high/ 90″ overall, 4'w x 4'd and 3′ wide x 4′ deep. We have hundreds installed all over Brooklyn, Ask to see them. P(917) 837-0032 or feel free to use our Complimentary Layout Form.
Our Wall Mount Bike Hooks #42488 are the most popular in Brooklyn. Made of all welded steel with a shiny black powder cost finish. Designed to allow bikes to be stored just 12″ apart. Space efficient and User Friendly.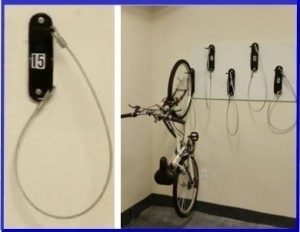 Each #42488 wall mount bike bracket has a 5 foot cushion coated security cable that can be looped around the bike frame, Both rims and secured with the bike owners lock. Easy to use, minimal lifting, Space efficient and backed with the industries only Lifetime Warranty. Contact us today for a complimentary bike room layout. or give us a call our team I available 7 days a week. Call now, We look forward to be of assistance P(917) 837-0032.
Tenant Storage Cages Brooklyn, Tenant Storage Lockers Brooklyn, Bike Hooks Brooklyn, Wall Mount Bike Brackets Brooklyn, Bike Hangers Brooklyn, Wall Mount Bike Racks Brooklyn NY.