Storage Cages North Brunswick. Manufactures, Master distributors and Installers of Welded wire security cages stocked locally. Proudly serving New Jersey since 1909. Storage cage sizes range from 3'w x 3'd to any size needed. Doors stocked in several widths and heights.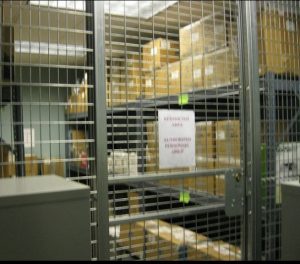 from 3′ wide to 12′ wide in single hinged, double hinged, single slide and bi-parting slide doors. Lock options include welded hasps for padlocks, cylinder locks, push button, card swipe, key fob, Electric strike locks, Mag locks. Interior push bars can be added to hinged doors on request. Auto hydraulic door closers for hinged and slide doors also in stock.  If your facility has an existing lock system we can provide interchangeable cores to match your locks.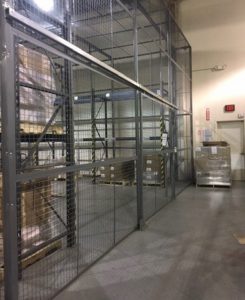 Storage Cages can be installed from 6′ high to 48′ high quickly with our modular stacking panels. Cost can be saved by using the rooms back and or sidewalls as part of the enclosure. Cages can be delivered with or without ceilings in the same welded wire material and powder coat color. Our New Jersey Techs provide Complimentary Layouts six days a week Either online or onsite. Feel free to use the quick form in the link above or contact us for immediate assistance.
Cages can also have locking cage service windows with exterior counter to reduce the number of times the doors have to be opened or left unattended.

Our 190,000SF New Jersey warehouse also stocks OSHA compliant Machine Guarding Safety Fence used to protect workers from hazardous equipment, motors, Moving machinery and Conveyor Lines. Our Safety fence specialists provide complimentary machine guarding safety fence surveys. Contact us to day for immediate assistance. Sales@LockersUSA.com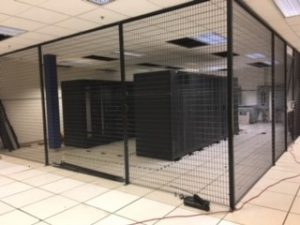 Also in stock is DEA Pharmaceutical and Cannabis cages, Server cages, Tenant Storage Cages and Driver entrance cages. Pallet Rack Cages doors and Backing and new and used pallet rack and wire decking.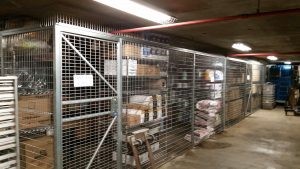 Storage Cages generate revenue. The Pandemic has caused financial challenges for all.  If your facility has underutilized space. Consider turning it into a profit center by providing storage cages to your contractors, Other tenants in the building and neighboring companies. Storage cages rent out in New Jersey from $125.00 to $450.00 per month. A space with 10 cages renting out at $300.00 per month on average will generate $36,000 per year in revenue. The ROI (return on investment) averages 7-8 months. Our team provides complimentary onsite or online layouts. Contact is today for immediate assistance. Sales@LockersUSA.com
Storage Cages delivered daily to North Brunswick, South Brunswick, Dayton NJ, New Brunswick, West Windsor, Monroe Twp NJ, Cranbury NJ,