Storage Cages Hazlet NJ. Welded and Woven wire storage cages stocked locally. Ideal for inventory and increased security. Manufactured with 10ga thick welded or woven wire. Doors can be from 3 feet wide to 12 feet wide in three popular sizes 6′, 7′, 90″ and 8'h. Doors can be hinged or sliding. Locking options include a welded hasp for padlocks, cylinder lock, push button, card swipe and key fob. We can also provide electric strike or mag locks.  Standard colors, Powder coat gray or black. Our Monmouth County office provides complimentary code compliant layouts six days a week. Either online or onsite. Storage Cages in Hazlet are widely used in Warehouses, Schools, Server rack enclosures, Restaurants for liquor storage, Safety Fence, Tenant Storage Cages and DEA Cages.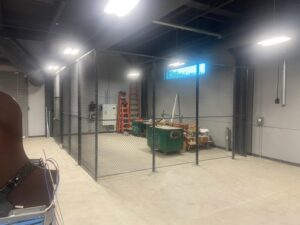 Cages are normally ordered 7′ or 8'h. Cages can have ceilings in the same material and color. Reduce your cage enclosure cost by using the back and or side walls of the room when possible. To prevent the cage being opened frequently a service window can be installed in new or existing cages.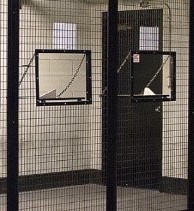 The service window locks in place, When its in use in slides up out of the way. A small counter is on the outside of the widow to transfer the material and to sign paper work on. Standard stock service windows are 24″ w x 21-1/2″ h.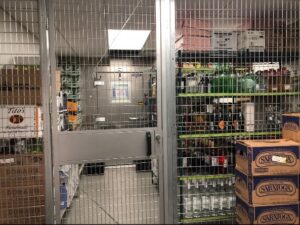 Tenant Storage Cages are extremely popular in New Jersey, Widely used in multifamily units, Condo buildings and Apartment complexes. Manufactured with 4ga thick welded wire (approx 1/4″ thick). Each door has a full height anti theft lock bar and welded hasp for the tenants lock and number tag.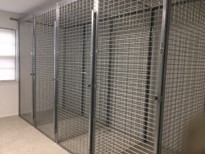 Stocked locally in New Jersey in rust resistant galvanized and powder coat gray. Tenant storage cages are normally installed directly to the rooms walls and floors. Backs, Floors and tops can be included on request. Tenant Storage Cages in New Jersey generate excellent revenue. Most developers rent out the cages for $75.00 per month and higher for larger cages. A basement with 40 cages renting out at $75.00 per month will generate $36,000.00 per year. The cages typically pay for themselves within one year. (ROI). Our Central New Jersey office provides complimentary code compliant layouts six days a week. Contact us now for immediate assistance Sales@LockersUSA.com
Storage Cages Hazlet NJ, Security Cages NJ, Tenant Storage Cages Hazlet NJ 07730, DEA Cages NJ, Wire Partitions NJ, Welded Wire Partitions NJ, OCM Cannabis Cages NJ, Liquor cages NJ,