Storage Cages Brooklyn. ideal for residential tenant storage, Inventory cages, tool cribs. Complimentary layouts, Lowest overall cost, Lifetime Warranty. Generates excellent revenue. Stocked in Brooklyn.  Proudly serving Brooklyn since 1909 our specialists provide complimentary layouts six days a week.  Manufactured with 4ga welded wire in rust resistant galvanized, Powder coat black and gray. Each Storage Cage has a full height anti theft lock bar, Welded hasp for padlocks or key lock.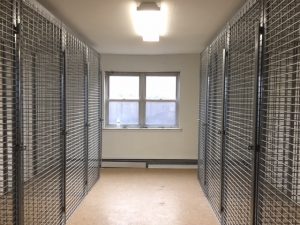 Storage Cages Brooklyn stocks two types for tenant storage cages – Single Tier (full height) and Double Tier (stacked) both widely used in the 5 boroughs. Tenant Storage cages are stocked in sizes from 3′ wide x 3′ deep to 8′ wide x 10′ deep x 7′ High, 90″ high and 8′ high. Other sizes can easily assembled with our modular stacking panels.  Most units today are attached directly to the rooms existing walls and floors. Tops, Backs, Floors can also be added upon request. Units not on a wall come with backs.  Our cages and labor has the industries only lifetime warranty.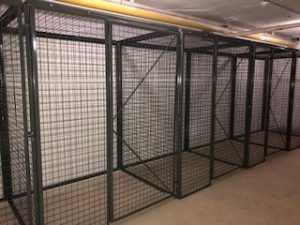 Storage Cages Generates excellent revenue. Today nearly all developers, landlord, Apartment buildings, Co-op and Condo boards charge a monthly rental fee for onsite storage cages ranging from $75.00 to $250.00 per month depending on the size. a building with 50 cages renting out for $90.00 per month on average will generate $54.000.00 per year in revenue. The return on investment averages just 7-8 months.  Our specialists provide complimentary layouts Six days a week and Sundays by appointment. Our facility is open Monday  through Friday 6AM – 5PM, Saturdays and Sundays 6AM – 2PM. Contact us now for immediate assistance. Sales@LockersUSA.com or Phone or text (917) 701-5795.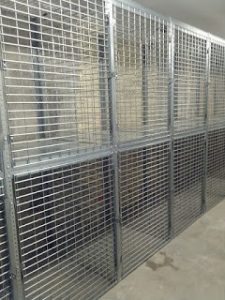 LockersUSA also stocks in Brooklyn Wall Mount Bike Brackets designed to allow bikes to be spaced just 12″ apart.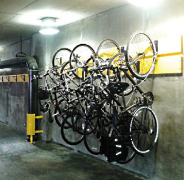 Manufactured with powder coat – shiny black steel, Cushioned – No mar surface. Attached to each #42488 Bike bracket is a five foot long cushion coated security cable that can be wrapped around the bike frame, both rims and secured with the bike owners lock. Easy to use, Minimal lifting. Over 14,000 installed in the NY Metro area. Our bike room specialists provide complimentary layouts. Call now for assistance. P(917) 701-5795.
Storage Cages Brooklyn, Tenant Storage Cages Brooklyn, Tenant Storage Lockers, basement cages Brooklyn, Wall Mount Bike Brackets Brooklyn. Storage Cages delivered daily to Williamsburg, Greenpoint, Park Slope, Prospect Park, Bushwick, Brooklyn Heights, DUMBO, Bed Stuyvesant, Carroll Gardens, Flatbush, Cobble Hill, Crown Heights, Clinton Hill, Sunset Park, Downtown Brooklyn, Red Hook, Brooklyn NY