Storage Cages Brooklyn NY. Welded wire storage cages stocked in Brooklyn. Ideal for securing inventory and tenant storage. Manufactured with framed welded wire in Galvanized steel. Our Welded wire storage locker provide secure, visual storage. Manufactured with 1/4″ thick welded wire. Each door has a full height anti theft lock bar. Built to last, With free delivery. Stocked with welded hasps for padlocks and cylinder locks. Other lock options include key pad, card swipe, key fob and Mag locks. Self closing door closers available for hinged and slide doors.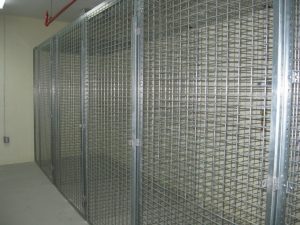 Storage Cages stocked from 3′ wide x 3′ deep. Our prefab modular panels allow us to make any size cage cost effectively. Standard heights 7′ high, 90″ high and 8'h.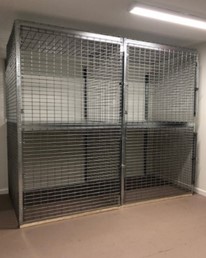 Storage cages can be provided with or without tops or to the ceiling. Doors stocked in Hinged and slide from 3′ wide to 12′ wide in single hinged doors, double hinged doors (pair), single slide and bi-parting double slide doors.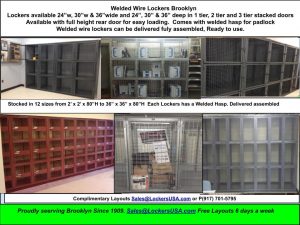 Welded Wire Lockers also stocked in Brooklyn with single tier – full height doors, Double tier – stacked doors and triple tier – 3 stacked doors. Lockers available 24″ wide, 30″ wide and 36″ wide x 24″ deep, 30″ deep and 36″ deep. Overall height is 79.5″ high. Each framed door has a welded hasp for padlocks and number plate. Full height welded wire panels or full height rear access doors available to quickly stock each locker. Our team provides complimentary layouts six days a week. Please use the quick form in the link above or contact us for immediate assistance. Our Brooklyn office is open Monday – Friday 7AM to 7PM and Saturdays from 7AM to 4PM. Phone (917) 701-5795.
Storage Cages Brooklyn NY 11205, Welded Wire Lockers 11205, Tenant Storage Cages Brooklyn NY, Security Cages Brooklyn NY 11205.
Location Navy Road Brooklyn NY 11205