Security Cages Yonkers NY.  Secure welded wire cages in Yonkers, Free layouts, Lowest cost, Lifetime Warranty. Stocked in 8ga and 10 ga welded wire and woven wire partitions. in durable powder coat colors. Any configuration or height can be made at standard costs with our modular design. Doors are stocked in Hinged and sliding. Door sizes available quickly are 3'w, 4'w, 5'w, Double – Dutch door in 6′, 8′ and 12′ Wide. Locks can be cylinder, welded hasp for padlocks, card swipe or push button. Welded grid openings 1-1/2″ x 3″ and 2″ x 2″ other grid opening sizes available on request.  Our posts are 2″ x 2″ x 1/4″ thick x the height needed, with 2″ x 6″ welded foot plates. Ceilings and Service windows can be added to the system.
Tenant Storage Cages Generate Revenue in Yonkers. Developers landlords Condo and Co-op boards offer on site storage in the basement for residents on a monthly basis. Rental rates range from $90.00 to over $200.00 per month depending on the size. A building with 40 tenant storage cages renting out at $90.00 per month would generate $43,200.00 per year in maintenance free revenue.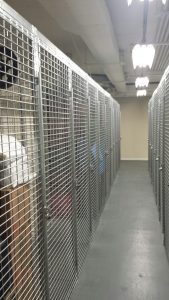 The ROI (return on investment averages 8-9 months.Our Tenant storage cages are stocked locally. Each tenant storage cages is 4ga steel with all welded grid openings. The lockers come standard with welded hasps or cylinder locks Full height lock bars. Stocked in durable galvanized or powder coat gray or black. Additional colors also available. NY most popular sizes 4'w x 4'D x 90″ high 4'w x 3'D x 90″h 4'w x 5'd x 90″ high and 3'w x 3'd x 90″ high in both single tier – walk in and double tier – stacked. Larger sizes are also in stock. In stock locally in addition to security cages is Tenant Storage Cages, DEA Pharmaceutical cages, Server Data Room and Co location cages.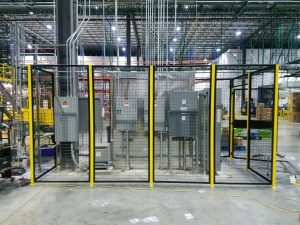 Our team provides complimentary on site layouts, Professional installations at the lowest overall cost, With a lifetime warranty Contact us today for immediate assistance. Sales@LockersUSA.com 
Security Cages Yonkers NY, Security Cages Yonkers, Tenant Storage Cages Yonkers, DEA Pharmaceutical Cages Yonkers, Tenant Storage Lockers Yonkers NY, Storage Bins Yonkers, Data Room Cages Yonkers, Co location Cages Yonkers NY, Welded wire partitions Yonkers, Woven Wire Partitions Yonkers. Daily deliveries to Yonkers, Dobbs Ferry, Hastings on Hudson, Rye, Scarsdale, Bronxville, Mt. Vernon, New Rochelle, Harrison, Kingsbridge, Bronx, Eastchester, Riverdale.