Security Cages Wire Partitions Roosevelt Island. Welded wire security cages and Wire Partitions. Complimentary layouts, Quick delivery. LockersUSA.com Welded Wire security cages are widely used in the 5 boroughs to secure inventory, Data Room & Server cages, Perimeter barriers, Machine Guarding, Tenant Storage Cages, DEA Pharmaceutical cage. Manufactured with 8ga framed welded wire in 5 powder coat colors and durable galvanized. Modular design allows us to build up to 20 feet. Doors stocked locally in hinged, Sliding. bi-parting double hinged from 3; wide to 12; wide. Locks range from welded hasps for padlock, cylinder locks, push button, card swipe, key fob or with interchangeable cores to match your existing system. Our team provides complimentary layouts and quick quotes daily.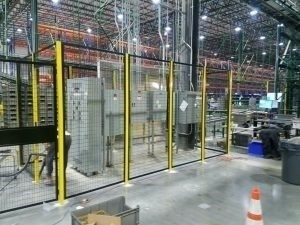 Also stocked locally is our Perimeter caging for Robotic Guarding and Machine guarding  Safety Fence for automated
equipment. Our Complimentary Layouts will help you create a code compliant perimeter.  Deliver is normally 2-3 days in all sizes. Tenant Storage Cages AKA Bulk storage lockers are ideal for residential buildings for residents to store items on site in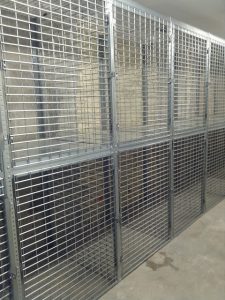 a secure visual storage cage. Schools, Business, Retail, Hospitality and Law Enforcement use build storage cages to store a variety of items safely. Manufactured with 4ga welded wire. Each locker comes with a welded hasp and full height anti theft lock bar, Stocked in NYC in 15 different sizes in single tier – walkin and double tier – stacked.
Data room, Server and Co location cages can be delivered and installed quickly. When needed the cage can be installed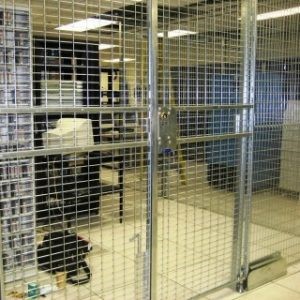 above to the ceiling and below the raised floor if needed. Doors  can be either 3′ wide or 4′ wide in hinged or as wide as needed with double  sliding doors.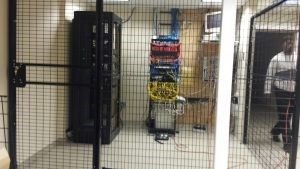 Our office is open Monday through Friday 7AM – 9PM and Saturdays 8AM- 1PM. P(917) 837-0032 or Sales@LockersUSA.com
Security Cages Roosevelt Island, Wire Partitions Roosevelt Island, Data Room Cages Roosevelt Island NYC 10044, Robotic machine guarding cages Roosevelt Island, Bulk Storage Lockers Roosevelt Island, Tenant Storage Cages Roosevelt Island NYC 10014,  Woven Wire Partitions Roosevelt Island NYC, Locker Roosevelt Island NYC 10014.
Security Cages Location Main Street Roosevelt Island NYC 10044.