Security Cages White Plains. Proudly serving New York since 1909. Welded wire security cages stocked locally. Manufactured with 8ga thick welded wire in rust resistant galvanized, gray, black and safety yellow.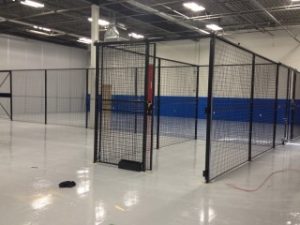 Doors come standard with cylinder locks or welded hasps for pad locks. Programmable locks stocked in card swipe, Push button and key fobs. Magnetic locks, Electric strike locks, Interior push bars for hinged doors can also installed at our facility before delivery. Automatic hydraulic door closers for hinged and slide doors can be installed by our specialists or your staff on site.  Our New Your facility provides Complimentary Layouts six days a week.Built to last with the industries only 5 year warranty. Storage cages can be installed from 7′ high to the ceiling quickly with a prefab – stacking modular design. Save money by requesting standard height cages usually 8′ high. And if possible use the rooms back and or side walls as part of the cage enclosure.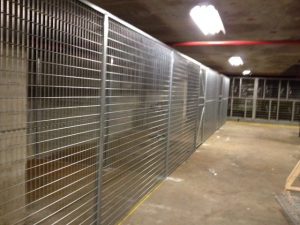 Cages can be supplied with or without ceilings in the same material and color. Locking access windows can be included for the cage. The cage window has an exterior counter. Service windows help prevent opening the cage doors.
LockersUSA's local 109,000 SF facility also stocks DEA Cages, Drivers entrance cages, Machine Guarding Safety Fence and Tenant Storage Cages.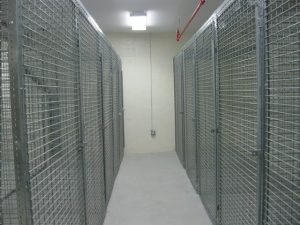 Tenant Storage Cages in White Plains generate excellent revenue. Today most developers, landlords, apartments and condo boards charge a monthly rental fee for a storage cage. Averaging $125.00 per month. A building with 50 cages renting out for $125.00 per month will generate $75,000.00 per year in revenue. The cages will pay for themselves on average within 8 months.
Manufactured with 4ga thick welded wire. (4ga is more than double the welded wire thickness of 10ga). Each door has a full height anti-theft lock bar and welded hasp for the residents lock. Most buildings today have the storage cages attached directly to the rooms existing walls and floors.
Tops, Backs, Shelves and Floors can be included on request. Contact us today for immediate assistance. Our New York facility is open 6 days a week. Sales@LockersUSA.com