Security Cages Somerville NJ. Complimentary Layouts, Proudly serving NJ since 1909, Professional Installations, Lowest overall cost, 5 year Warranty Security Cages and Labor. Built to last in 8ga welded wire, Stocked in Rust Resistant Galvanized and Powder coat Grey or Medium gloss black. Doors stocked in Single Hinged, Single Slide, Double Hinged and Bi – Parting double slide doors.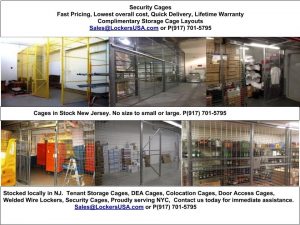 Door locks can have welded hasps for padlocks, cylinder locks, Programmable Welded wire cages can easily reach 48′ high with our modular stacking panels. Security Cages can be single sided, 2 or 3 sided and 4 sided with or without a ceiling in the same material. Cost can be realized if the rooms existing side and or back walls can be used. Doors can also be delivered with interior push bars, auto door closers, electric strikes, ADA compliant and magnetic locks. Additionally cylinder locks can be keyed different, keyed alike or keyed different with a master keys for management.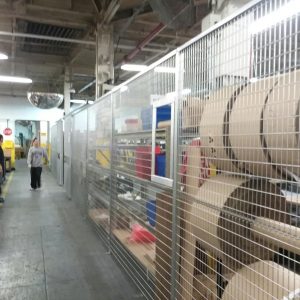 LockersUSA.com also stocks in New Jersey, Server Cages, DEA Pharmaceutical Cages, Tenant Storage Cages, Machine Guarding Safety Fence and Welded Wire Lockers. Our Techs provide Complimentary Layouts daily. Feel free to use the link above or email us for immediate assistance.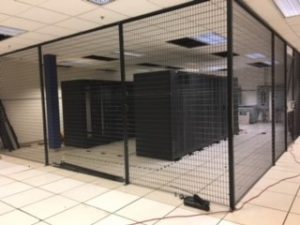 Security Cages Somerville NJ can generate revenue. if your building has underutilized warehouse space, Consider what other facilities are doing by offering storage cages to Tenants,  Contractors, Local business. 10×10 x 8'h cages in Somerville average $200.00 per month. a warehouse renting out 10 storage cages at $200.00 each per month can generate $24,000.00 per year in revenue. The cages would pay for themselves in just 7-8 months (ROI). LockersUSA.com 109,000SF facility is open Monday through Friday 7AM to 5PM and Saturdays 7AM to 4PM. Contact us today for immediate assistance. Sales@LockersUSA.com
Security Cages Somerville NJ, Server Cages Somerville NJ, DEA Cages Somerville  NJ, Machine Guarding Safety Fence NJ, Tenant Storage Cages Somerville NJ. Wire Partition Cages NJ, Security Cages delivered daily to Somerville, Branchbrook,, Bound Brook, Bridgewater, Branchburg, Somerset, Piscataway, South Plainfield, New Jersey