Security Cages Lumberton. Welded wire security cages stocked locally. Complimentary layouts, Quick delivery and installation. Lowest overall cost. Lifetime Warranty. Security Cages Lumberton stocks welded wire single and sliding doors 3′ wide, 4′ wide, 5′ wide, Double Hinged and sliding doors 6′ wide, 8′ wide. Door and security cage panels manufactured in 8ga welded wire and 10ga in durable galvanized and five powder coat colors. Heights up to 24′. Doors can be delivered and installed with welded hasps for padlocks, Cylinder locks, Push button, Card Swipe, Key Fob or supplied with cores to match existing systems.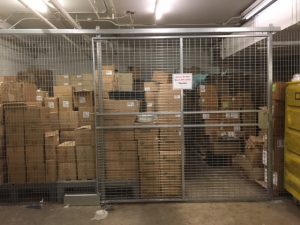 Ceilings can also be added cost effectively. When buying security cages, Consider using existing common walls. Back walls and or side walls to reduce costs. Security Cages Lumberton posts are manufactured with 2″ x 2″ x 1/4″ thick x the height needed in galvanized steel or 5 powder coat colors. Each post has 2″ x 6″ welded foot plates. If attaching to the ceiling we can also attach welded foot plates on top of the posts for secure anchoring not only to the floor but ceiling as well. Complimentary Free Layouts daily.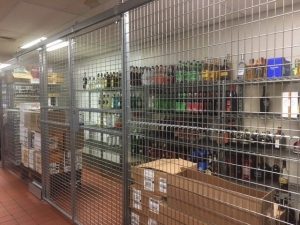 Also stocked locally is server cages, Data Room Cages, Machine Guarding Cages, DEA Pharmaceutical Cages and Tenant Storage Cages. Our experienced team provides cost saving, code compliant layouts daily.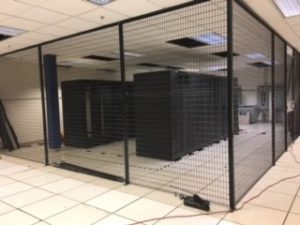 Become Code compliant today with our in stock Equipment Cage and Machine Guarding Cage enclosures. Our modular panel design allows us to make any configuration cost effectively.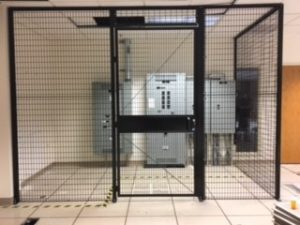 Contact us now for immediate assistance. Sales@LockersUSA.com or Phone (917) 701-5795.
Security Cages Lumberton, Security Cages Lumberton NJ, DEA Pharmaceutical Cages Lumberton NJ, Machine Guarding Cages Lumberton NJ, Equipment Cages Lumberton, Woven Wire Partition Cages Lumberton NJ, Security Cages delivered daily to Lumberton, Mount Holly, Moorestown, Cherry Hill, Pennsauken, Fort Dix, Berlin, Glassboro, Jackson, Marlton, Monroe Twp, Washington Twp. all of New Jersey.