Security Cages Freehold. Welded Wire Partition cages and Tenant Storage Cages stocked locally. Complimentary Space Saving, Free Delivery,  Code Compliant Layouts. New Jersey's Largest Inventory. Ideal to protect inventory, Create barriers, Secure buildings entrances and Loading Docks. We are open,  call now P(917)701-5795.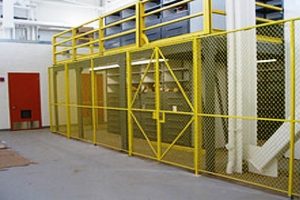 Security Cages Freehold stocks Hinged doors, Sliding Doors, Double hinged and double sliding doors from 3′ wide to 12′ wide. With cylinder locks, welded hasps for padlocks, Magnetic Locks, Electric strikes, Card readers, Push button or delivered to match your existing lock system. Security Cages can be assembled by our installation crew or yours quickly. Heights up to 24′ high easily achieved with our modular welded wire stacking panels. Or ceilings can be installed. Save your budget by incorporating the buildings side and or existing walls. Manufactured with 8ga steel in durable Galvanized steel or 5 standard powder coat colors.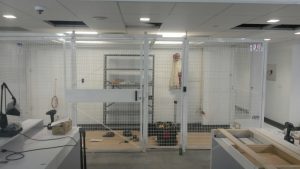 LockersUSA's New Jersey facility also stocks Machine Guarding Safety Cage, Tenant Storage Cages, DEA Pharmaceutical Cages, Welded Wire Mesh Cages, Equipment Cages.  Our Security Cage Freehold office provides complimentary layouts six days a week. Either on line or onsite.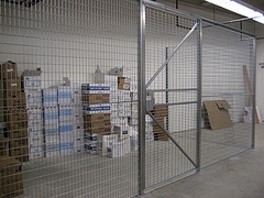 How to buy security cages. Of course price matters, Here is a few items that will help you get the security cage needed while avoiding pitfalls or the wrong item arriving. Welded Wire Partition Cages can be bought in several welded wire steel gauges. the lower the number the thicker the welded wire, Increasing security. 8ga welded wire increases security and today cost less than thinner wire 10 or 12 gauge. Look for local suppliers that can visit your facility, Review the space and make layout recommendations based on local codes. If no loading dock is available, Request a lift gate delivery. If your team is installing, Inside delivery would be by your staff. A forklift with extended forks is optimal. pallet jacks work also. Doors, Consider when ordering the size of door needed, Lock right or left, Swing in or out and lock system. Our Security Cage specialist can assist you with options when ordering based on your specific needs and lowest overall cost. Warranties vary depending on the source. LockersUSA provides a lifetime warranty on the materials and installation.  Our office is open Monday through Saturday 7AM – 5PM and Saturdays from 7AM – 2PM. Sales@LockersUSA.com or P(917) 701-5795.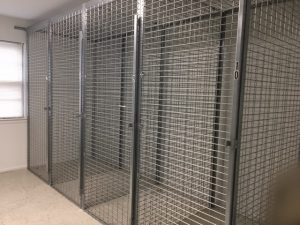 Also stocked near Freehold is our Tenant Storage Cages in Single Tier – Full Height doors and Double tier – Stacked doors. Doors in stock 3′ wide and 4′ wide hinged doors. Tenant Storage Cage sizes range from 3′ wide x 3′ deep to 4′ wide x 5′ deep. Larger sizes easily made with our modular stacking cage panels.  Our team provides complimentary tenant storage cage layouts daily. Contact us today for immediate assistance. P(917) 701-5795.
Security Cages Freehold, Woven Wire Partition Cages Freehold, Machine Guarding Cages, Tenant Storage Cages Freehold NJ, Server cages Freehold, Co location Cages New Jersey.  Security Cages delivered daily to Freehold, Jackson, East Brunswick, Eatontown, Manalapan, East Windsor, Monmouth Junction, Wall Twp, Howell, Lakewood, Cranbury Twp, Tinton Falls, South Brunswick, Monroe, Marlboro, Colts Neck, New Jersey.