Security Cages Elmwood Park. Welded Wire Security Cages , Tenant Storage Cages, DEA Pharmaceutical Cages, Data Room, Co-location Cages and Machine Guarding and Equipment Enclosures. . Free Layouts, Quick Deliveries, Lifetime Warranty, Lowest Cost.  Open 6 days a week . Sales@LockersUSA.com
LockersUSA.com  provides quick deliveries of welded wire and woven wire in galvanized steel or 5 standard powder coat colors. Standard doors in stock in hinged, sliding or dutch double doors in hinged or sliding. Our modular design eliminates custom costly installations.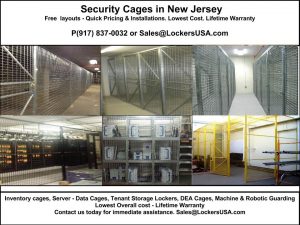 LockersUSA is a full service design, fabricator and installation company. Our 4 installation crews provide layouts and installations Monday through Saturday in New Jersey. LockersUSA buys woven wire and welded wire partitions in large bulk orders passing the saving along to our customers. Stocking locally  also eliminates expensive freight rates. Call us now for immediate assistance. P(917) 837-0032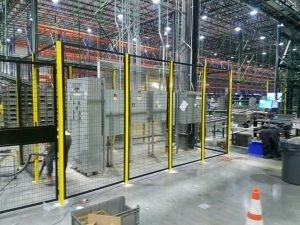 Cages can be ordered with welded hasps for padlocks, cylinder locks, card swipe, key fob, push button based on your specific needs. We can also provide our doors delivered with magnetic locks and emergency push bars. Multiple doors can be keyed different, Keyed alike or keyed different with master keys. Our framed welded wire or woven wire cages are framed with 2″ x 2″ x 1/4″ thick x the height needed posts with 2″ x 6″ welded foot plates.
Tenant Storage Cages Generate good revenue. Providing on site storage in residential buildings for residents is a win – win. Developers, Landlords and Condo board typically charge $80.00 to $150.00 per month to rent out storage cages. If a building provides 30 Tenant Storage Cages at a monthly rental rate of $80.00 per month. The cages would generate $28,800.00 per year in maintenance free revenue. The cages would pay for themselves in less than 8 months. Manufactured with all welded steel 4ga, With full height anti-theft lockbars, steel encased cylinder locks or welded hasps for padlocks. Tops backs and floors can also be added at a nominal cost.
To save money Cages can be attached to existing back and or side walls. Ceilings  can also be added when needed. For immediate quotes feel free to use our Complimentary Layout Form
Our NJ office and shop is open Monday through Friday 7AM to 5PM and Saturdays 7AM – 1PM contact us now for immediate assistance. Sales@LockersUSA.com or give us a call P(917) 837-0032.
Security Cages Elmwood Park, Wire Partitions Cages Elmwood Park, DEA Pharmaceutical Cages Elmwood Park, Tenant Storage Cages Elmwood Park, Robotic Caging Elmwood Park, Machine Guarding Elmwood Park, Equipment Caging Elmwood Park, Welded wire security cages Elmwood Park NJ. Security Cages daily deliveries Elmwood Park, Westfield, Lodi, Garfield, Rochelle Park, Maywood, Hackensack, Paterson, Hawthorne, Fairlawn and all of New Jersey.