Republic Lockers New Jersey. Proudly serving the Tristate since 1909. Being someone who has been in the locker business for years, I get to go to job sites and appreciate the quality of Republic Lockers. They are a step above, While being at the lowest overall cost in most cases. Based in central New Jersey, Our 109,000 square foot warehouse stocks Republic Lockers and Shelving. Our team provides complimentary code compliant layouts and factory authorized installations.
Republic Lockers in New Jersey. Save on material cost and freight. Daily deliveries and installations to NJ, NYC & PhiladelphiaThe last couple of years have been challenging for the entire Locker industry, Faced with labor shortages and plants being idled from COVID and extremely long lead times and incredible steel and freight rate surcharges. We strongly suggest AIA's, Contractors and Companies needing lockers to specify the quick ship lockers.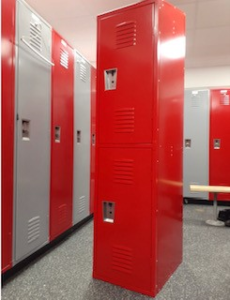 Republicn Lockers New Jersey's Quick Ship offers a wide array of sizes for any facility.
                      REPUBLIC QUICK SHIP LOCKERS IN NEW JERSEY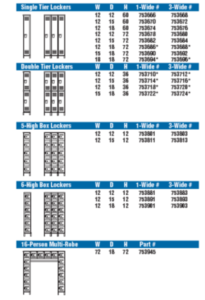 Our locker techs will also give you guidance with egress and ADA compliance when setting up the locker room.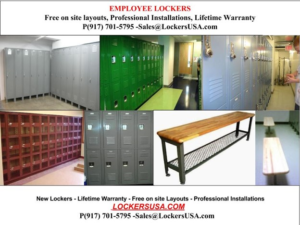 Locker room benches are also on our quick ship program. pedestals for the lockers will be the same color as the lockers ordered. Republic lockers in New Jersey can be delivered with built in combination locks, Combo pad locks or cylinder clocks.
  Need cell phone lockers with USB
Republic cell phone locker. This locker includes 14
individual use doors with USB charging outlets. One
secured space is used to house the USB converter. This
converter plugs into any standard outlet. The master
door provides access to all the openings at once. Each
locker includes mounting brackets to easily hang the
unit on the wall and keep your floor space clear.
• Overall Size: 27"w x 9"d x 39"h
• Individual Locker Size: 6-1/2"w x 6-3/4"h
• 18 gauge doors, 24 gauge body parts
• Steel padlock hasps with friction catch
• Master door with locking handle, 2 keys
• Wall mounting brackets
• 14 USB A charging outlet & converter
• Includes number plates
• Available in Monorail Gray – Ships Assembled
Contact us today for immediate assistance. Sales@LockersUSA.com
Republic Lockers New Jersey, Republic Lockers Philadelphia, Republic Lockers NYC, Steel Lockers NJ, Metal Lockers NJ,