Pallet Rack Port Reading. Complimentary onsite layouts. Quick delivery from our local 109,000SF warehouse, Professional Installations, Serving NJ Since 1909. Manufactured in the United States, Stocked locally. Uprights and Beams manufactured with HSLA prime US Made, High strength steel, (Documentation available on request) Upright heights to 46′ high. Standard base plates are 4″ x 4.25″ x 0.13: oversized base plates on request. PE stamped drawings with calculations available with permitting requirements.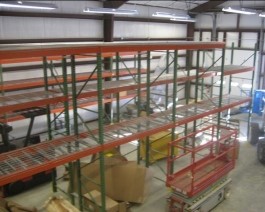 When selecting Racks go with the industry standard Tear Drop pattern style beams. Tear drop style allows you to add to your existing system as needed. We also stock Keystone type pattern beams and uprights if needed. Beams have safety clips which install automatically to prevent dislodgement. Many standard sizes ship within 48 hours.
Our Local facility also stocks Wire Decking for pallet rack.  LockersUSA offers a variety of sizes, capacities, and custom configurations to accommodate any rack and any application. Wire decking is available in a number of finishes. Choose from oven-baked gray enamel, powder coated, hot-dipped galvanized, pre-galvanized or electro-zinc plated finishes. Wire pallet decking simply drops into place. Wire decking increases fire safety with open welded wire mesh design. Lowering Insurance cost. ANSI and R-Mark Certification. Contact us for immediate assistance. P(917) 701-5795.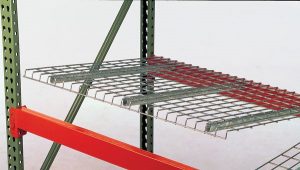 Pallet Rack accessories also stocked in New Jersey include Floor Mount Post Protectors, Bolt on Post Protectors, Row Spacers, Waterfall Crossbars, Welded Wire Rack Guarding to enclose racking backs, sides and fronts with hinged or slide double doors. Our Racking and beams is available with green uprights and orange beams, Eight other powder coat optional colors also available. If the warehouse if hand loading boxes consider Bulk Rack, designed to hold 4500 pounds per level and cost 50% less than pallet rack. Bulk Rack beams stocked from 49″ wide to 12″ wide.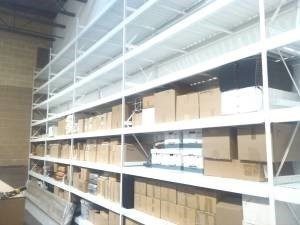 Cantilever Rack for storage of large sheets, piping, etc also stocked in standard duty and structural heavy duty.  Our office is open Monday through Friday 7AM to 5PM and Saturdays 7AM to 4PM. email us at Sales@LockersUSA.com or Phone (917) 701-5795.
Pallet Rack Port Reading, Pallet Racking Port Reading NJ, Pallet Racks Port Reading NJ 07001, Pallet Rack Uprights NJ 07008, Cantilever Racking NJ, Pallet Rack Beams NJ, Pallet Rack delivered daily to Port Reading, Woodbridge Twp, Avenel, Iselin, Perth Amboy NJ 08861, Linden NJ, Elizabeth NJ, Rahway NJ, Union NJ, Sayreville NJ, Parlin NJ, New Jersey.