Golf Club Lockers NJ. Wood and Metal lockers stocked in New Jersey. Proudly serving the Locker industry for 111 years. Free onsite Layouts, Lowest overall cost, Free Deliveries, Professional Installations. LockersUSA.com 109,000sf facility stocks metal lockers, Wood Lockers, Phenolic/Plastic Lockers, Galvanized Lockers. Widely used by Schools, Business, Hotels, Golf Courses, Gyms, Law Enforcement, Hospitals. Built to last in 24 standard colors.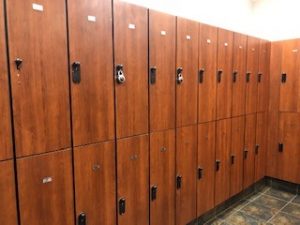 New & Used Lockers available. Currently we have a large inventory of two tier wood lockers and New Wood, Steel and Plastic lockers.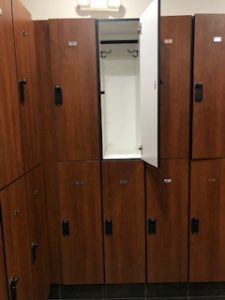 The used two tier lockers are 12″ wide x 18″ deep x 72″ high. Built in 3 wide frames (six lockers) and 1 wide frames (2 lockers) Typically used wood and metal lockers cost half as much as new. Plus purchasers save dramatically on long distance shipments from out of state online sources. Contact us today for immediate assistance.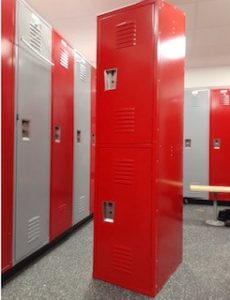 LockersUSA.com stocks the industries most popular types from Single Tier – Full height to Box Lockers – Six Tier high. Lockers can have flat or sloping tops, Open or closed in legs, Recessed stainless steel pocket handles or tamper proof handle.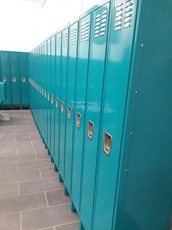 Save on your next locker purchase. Options like slope tops are costly, Go with flat tops and lockers with closed in legs rather than zee base for reduced cost. Our inventory also includes Locker Room Benches and ADA compliant lockers. ADA lockers are required every 4th or 5th locker. Our Lockers specialist can assist with ADA requirements with the Complimentary Locker Room Layout. Contact us today for immediate assistance. Sales@LockersUSA.com
Golf Club Lockers delivered daily to Colts Neck, Middletown NJ 07748, Freehold, Rumson, Plainfield, Springfield NJ, Spring Lake, Belmar, Jersey City, Atlantic Highlands, all of New Jersey.