Folding Guard Tenant Storage Cages NYC. Complimentary Layouts, Quick quotes and delivery. Stocked locally. Lowest overall cost,  Professional Installations. Since 1909 our dedicated long term staff has proudly served the NYC Metro area. Folding Guard's Security Cages, Tenant Storage Cages have been installed in hundreds of NYC & NJ locations. Our trucks stock all common parts to prevent delays. Folding Guards Qwik Fence provides secure, visual storage. Manufactured with 8ga galvanized steel with all welded grid openings 1-1/2″ x 3″. Cage panels are stacked horizontally. Supported with 2″ x 2″ x 1/4″ thick x the height needed in galvanized steel or 5 powder coat colors.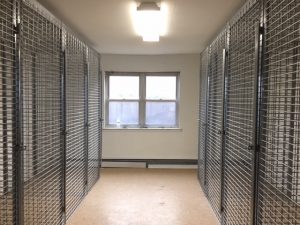 Doors stocked in Single Hinged 3′ wide and 4′ wide. Double Hinged doors 6′ wide and 8′ wide. Single Slide doors 3′, 4′, & 5′ wide. Double bi parting slide doors to 12′ wide. Door locks cab be cylinder locks, welded hasps for pad locks, card swipe, push button, key fob, or we can match your existing system with IC cores. Mag locks, Electric Strikes and Push bars can be installed by our authorized installers or your team.  Folding Guard's Qwik Fence is a perfect match for NYC buildings, Designed to accommodate over head piping, columns and obstructions. on site modifications can be made with out custom high costs.  Our team has installed thousands of Folding Guard Stor-more Tenant Storage cages. Our guys love them and you will to. The added no charge features and benefits exceeds all brands, IE: 4ga galvanized steel welded wire is more than double the thickness of other brands 10ga.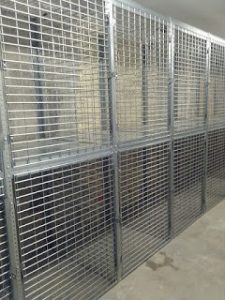 Each tenant storage cage has full height anti theft lock bars, Welded hasps for padlocks. Typically most buildings have the lockers attached directly to the rooms walls and floors. Backs, Tops, Floors and shelves can also be installed upon request. Complimentary Layout Form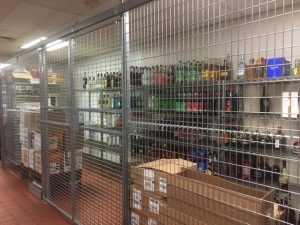 Our inventory also includes Folding Guards Dispatcher lockers, Server & Data Room Cages, Wire Partitions and DEA cages.  Folding Guard Tenant Storage Cages NYC generate excellent revenue. Most residential buildings charge a monthly rental fee for on site storage ranging from $65.00 to $400.00 per month depending on the size. A tenant storage room with 50 cages renting out on average at $85.00 per month will generate $51,000.00 per year. Even better the ROI averages just 7-8 months.
Our NYC office is open Monday through Friday 6AM to 5PM and Saturdays 6AM to 1PM contact us now for immediate assistance. Sales@LockersUSA.com or P(917) 701-5795.
Folding Guard Tenant Storage Cages NYC, Folding Guard Qwik Fence NYC, Stor-more lockers NYC, Tenant Storage Cages NYC, Tenant Storage Cages NYC, Folding Guard Tenant Storage Cages NJ, Folding Guard wholesale NYC, Folding Guard P8 posts NYC, Folding Guard H4 hinged doors NYC, Folding Guard bulk storage lockers NYC, Folding Guard Tenant Storage Cages NYC delivered daily in New York City, Brooklyn, Queens, Bronx, Staten Island, Long Island, Jersey City, Newark, New Jersey, New York.