Folding Guard Tenant Storage Cages NY. Best in class, Lowest overall cost, Lifetime Warranty. Complementary Layouts. Generates Revenue with the quickest ROI in the business. Folding Guard Tenant Storage Cages NY provides numerous benefits for less. Tenant Storage Cages stocked locally in Single Tier – Full Height and Double Tier – Stacked. Manufactured with 4ga welded wire, More than double the welded wire thickness of other brands. Providing added quality and security for less. Each Tenant Storage Cage has full height anti-theft lock bars, Welded hasps for padlocks and number tags. Typically tenant storage cages are attached directly to the rooms existing walls and floors. Tops, Backs, Floors and shelves can also be added. LockersUSA.com provides complementary layouts either on line or onsite.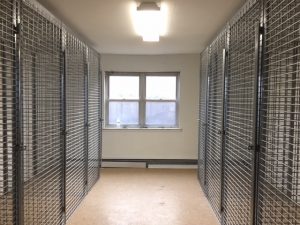 Tenant Storage Cages NY generates excellent revenue . Today most developers, Condo and Co-op Boards and Apartment Buildings charge a monthly rental fee. Rental fees range from $65.00 to $180.00 per month. A tenant storage room with 50 cages renting out at $90.00 per month would generate $54,000.00 per year in revenue, The Return on Investment is the quickest in the industry averaging just 6-7 months.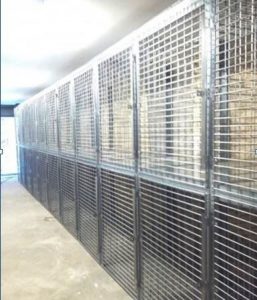 LockersUSA delivers and installs throughout New York daily. Also stocked locally is Security Cages, Machine Guarding Safety Fence, Server Cages, DEA Pharmaceutical Cages, Perimeter Cages in durable galvanized, Powder Coat Black and Gray.  LockersUSA also stocks Wall Mount Bike Brackets, Designed to create space saving, Easy to use bike rooms. Manufactured with all welded steel with a shiny black powder coat finish. Attached to each #42488 wall mount bike brackets is a 5′ long cushion coated security cable that can be wrapped around the bike frame and rims and secured with the bike owners lock. Built to last with a lifetime warranty. Widely used in New York in Residential Buildings, Office Buildings and Parking Garages.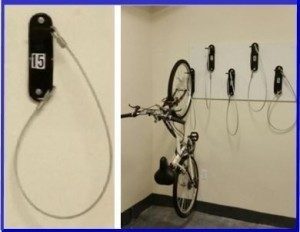 Our team provides complementary bike room and tenant storage cage layouts daily. Contact us now for immediate assistance. Sales@LockersUSA.com
Folding Guard Tenant Storage Cages NY, Folding Guard Tenant Storage Cages NYC, Tenant Storage Cages NY, Tenant Storage Cages NYC, Folding Guard Tenant storage lockers NY, Folding Guard qwik fence NY, Folding Guard Safety Fence, Folding Guard Wire Partitions NY.
Folding Guard Tenant Storage Cages NY daily deliveries to New York City, Brooklyn, Queens, Bronx, Staten Island, Yonkers, Long Island, Buffalo, Rochester, Albany,