Folding Gates  NYC, Free on-site layouts, Fast Delivery and Installation
Folding Security Gates stocked in NYC at Equiptall. Galvanized steel or Powder Coat finish to match your facilities colors.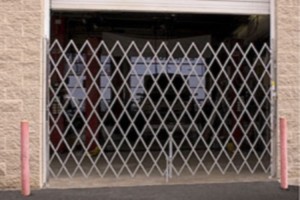 Compact and easy to operate, the IEP portable Xtra-Duty designs come configured in three styles of locking mechanisms to accommodate a variety of needs: pressure fit, side-locking and floor mounting versions complete the line. As with all IEP gates, the portable models can be custom-made to fit any size opening and can accommodate a variety of installation options, making IEP security solutions a great fit for key applications where quick and easy traffic control is required.
Equiptall provides complimentary on site measurements and turnkey installations. Contact us today.
Reinforced with minimum of 2 rows of lattice bars, Xtra-Duty Folding Gates provide access control and front line security while offering line-of-sight visibility and air circulation. Units come in single- and double-gate configurations with folding top and bottom tracks that when expanded, create blockade from unwanted access. When closed, gates fold discretely out of the way. Portable models offer 3 styles of locking mechanisms, including pressure fit, side-locking, and floor mounting.
The Only Folding Security Gates Made With Heavy-Duty Galvanized Steel.
They withstand brutal 4-season conditions like rain and snow. Our Gates stand up to harsh industrial chemicals and cleaners too.
The Strongest Folding Security Gates on the Market
Our Security Gates are the only gates made with solid galvanized steel 5/8" self-securing drop pins designed to fit directly into floor holes. They provide maximum strength and maximum security. You cannot buy a stronger gate!
P(917) 701-5795

Folding Gates NYC, Folding Gates NY, Folding Gates Brooklyn,  Folding Gates Varick Street NYC 10014