Fertilizer-Pesticide Security Cages. Secure, Visual welded wire security cages for Fertilizer and Pesticides. Manufactured with 8ga galvanized steel with all welded grid openings. Also stocked in 5 standard powder coat colors. Modular Design allows for Security cages to easily be installed up to 20′ high, With or without ceilings. Doors stocked in hinged, double hinged doors,  sliding, bi parting double slide doors from 3′ wide to 12′ wide. Locks range from welded hasps for padlocks, cylinder locks, push button, key fob, Interchangeable cores, Card swipe. Posts are 2″ x 2″ x 14ga steel with 2″ x 6″ welded foot plates for secure anchoring. We also stock posts with 5″ x 5″ welded foot plates for larger doors. Mag locks and hydraulic closer, Push bars for hinged doors also in stock.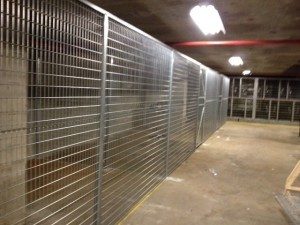 LockersUSA provides immediate deliveries nationwide from 16 regional warehouses. Contact us now for immediate assistance. Sales@LockersUSA.com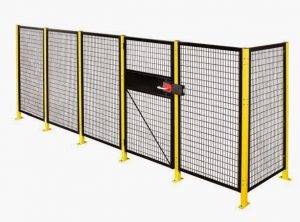 Fertilizer & Pesticide Manufacturers, Garden Centers, Golf Courses, etc are required to enclose inventory from unauthorized access to inventory.  Pesticide and Fertilizer welded wire security fence will assist in becoming code compliant.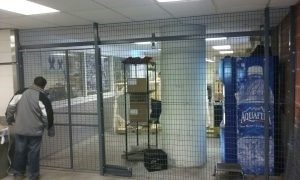 Welded Wire Security Cages provide secure, visual storage without the need for additional lighting, Temperature controls or additional sprinklers. Light, Water and Air pass through the cages unobstructed.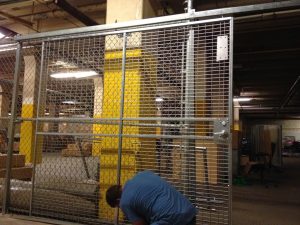 Our team provides Complimentary Layouts, Professional Installations and the best warranty in the business at the lowest overall cost. Federal regulations require that Fertilizer and Pesticides be enclosed securely to prevent unauthorized visitors access.
Contact us today for immediate assistance. Sales@LockersUSA.com or P(888) 963-5355.
Fertilizer-Pesticide Security Cages ,Fertilizer Pesticide Storage requirements, Fertilizer-Pesticide Storage golf courses, Fertilizer-Pesticide storage requirements, Fertilizer-Pesticide Security Fence. Fertilizer-Pesticide Security Cages delivered daily to Illinois, Indiana, Florida, Virginia, North Carolina, Maryland, Georgia, New Jersey, Vermont, New York, Connecticut, Pennsylvania, Texas, New Mexico, Arizona, California, Nevada, Minnesota, Long Island, New Jersey, Delaware, Ohio, Colorado, Utah, Tennessee, Kentucky, Alabama, Missouri, West Virginia, New Hampshire, Oklahoma, Idaho, Mississippi, Idaho, Nebraska, North Dakota, South Dakota.