Equipment Enclosures Bronx NY. Proudly serving the Bronx since 1909. Complimentary code compliant layouts. Enclose Equipment, Motors, Electrical Panels, Moving Machinery with Welded Wire cage enclosures manufactured with 8ga framed welded wire or 10ga Woven Wire Partitions. Doors stocked locally in single hinged, single slide, double hinged or double bi-parting slide doors.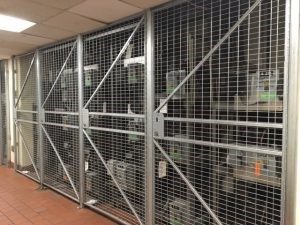 Doors can be equipped with welded hasps for padlocks, Cylinder locks, Card swipe or Push button locks. Stocked in Powder coat gray, black and rust resistant Galvanized. Equipment Enclosures can typically be delivered and installed within 10 days. Custom cuts around piping, columns will not create added costs with our modular stacking cage enclosures.
Built to last with a 5 year warranty at the lowest overall cost. Our techs provide complimentary layouts six days a week either online or onsite. Our 209,000sf facility is open Monday through Friday 6AM to 5PM and Saturdays from 6AM to 2PM. P(917) 701-5795.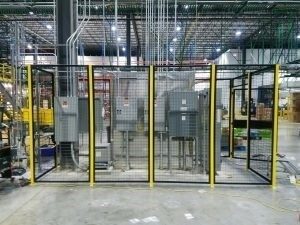 Equipment Enclosures Bronx NY also stocks Machine Guarding Safety Fence to enclose Moving machinery, Robotics and Equipment. Stocked in 3 code compliant heights. Our team provides code compliant layouts daily in the NY Metro area.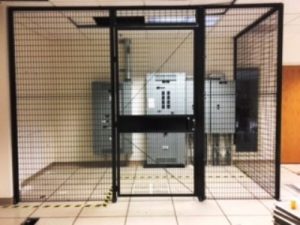 Rated for indoor or outdoor use, LockersUSA has the enclosure needed or your specific application at the lowest overall cost and best warranty in the business. Call or email us now, When your working, we're working. P(917) 701-5795 or Sales@LockersUSA.com
Equipment Enclosures Bronx NY, Machine Guarding Cage Bronx NY, Security Cages Bronx NY, Storage Cages, Wire Partitions Bronx NY. Robotic Guarding Cage Bronx NY. Equipment Cage Enclosures delivered to the Bronx zip codes daily to 10451, 10454, 10457, 10460, 10462, 10472, 10456, 10452, 10459, 10468, 10453, 10469, 10461, 10463.