Conveyor Guarding Safety Fence Long Island City NY. Conveyor Perimeter Guarding helps prevent worker injuries. Proudly Serving NYC  since 1909. Ideal for conveyor lines at Manufacturing, Internet Fulfillment, Commercial Laundry, Bakeries, Logistic companies, Warehouse, Distribution.  Complimentary Code Compliant Layouts, Quick delivery and installation. Phone (917) 701-5795.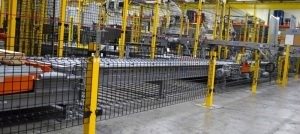 Conveyor Safety cannot be overlook with so many moving parts above and below.  Protect your workers. Reduce cost of doing business by maintaining productivity while reducing downtime, We can help you meet OSHA and other safety regulations with our complimentary onsite code compliant layouts.


Stocked locally, Quick delivery and professional installations from our 109,000SF facility.  Our modular system consists of three post heights, six styles of doors, and over 30 pre-fabricated wire-mesh panel sizes and accessories.  All pieces assemble and install precisely and quickly. You'll enjoy worker safety, less downtime, compliance with federal safety regulations, and have fewer machine-guarding problems to solve. Designed to allow maintenance work to be done by removing secured panels quickly, While preventing workers to enter the conveyor area.  Conveyor Guarding Safety Fence Long Island City NY  is open six days a week Monday – Friday 7AM – 5PM and Saturdays 7AM – 4PM.
Conveyor Safety Fence modular system of posts, Framed welded wire mesh panels, and doors, with ample options in each. All components are manufactured for exact fit and easy assembly. These systems combine higher security, structural strength, and great flexibility. They're simply the best low-cost alternative to building permanent walls while providing an OSHA compliant barrier for conveyors.
Fast delivery – Stocked locally in Queens. system materials are in-stock and ready to ship within 3 days.
Strength – 10-gauge welded wire mesh with 1-1/4″ x 2-1/2″ grid openings, welded to 1-1/2″ x 1-1/2″ x 14-gauge steel angle frames.
Flexibility – interchangeable posts and panels, six door styles, plus lock and color options.
Convenience – requires no change to heating or lighting systems. Permits unobstructed view of inventory with air and light circulation, plus security. Easy assembly and installation, plus the versatility to be expanded or taken down and reinstalled, should floor plans change.
Complimentary Code Compliant layouts either online or onsite. Feel free to use the form in the link above or contact us for immediate assistance.

Sales@LockersUSA.com

Machine Guarding Safety Fence Long Island City. Enclose electrical equipment and machinery. Stocked in LIC in 4 standard heights. Complimentary onsite layouts.

Conveyor Guarding Safety Fence Long Island City NY, Conveyor Safety Cages Long Island City, Conveyor Safety Cages Long Island City NY, Machine Guarding Safety Cages Queens NY 11101. Conveyor Guarding Safety Fence delivered daily to Long Island City, Maspeth, Queens NY, Astoria, Brooklyn, New York City, Staten Island, Bronx, NYC.