Cannabis Storage Cages OCM NYC.  OCM Compliant Cannabis storage cages New York City. Become compliant in one week. Our Techs provide code compliant guidelines, Complimentary Layouts, Quotes and Factory trained installations. Our techs provide layouts and quotes throughout the NY State.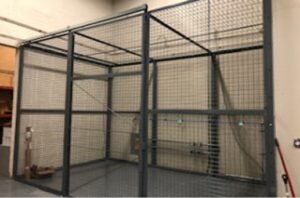 LockersUSA a NYC based manufacturer and stocking distributor has been proudly serving NYC since 1909. We started with code complaint DEA approved Pharmaceutical Cages. Our 190,000 sf NY distribution center, Delivers to the entire state daily. We take the stress out of understanding the OCM code and what is required.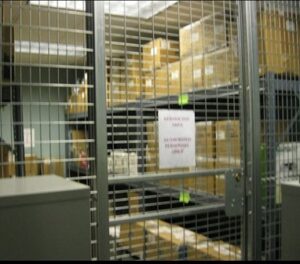 Our Cannabis Storage Techs will access your space and provide information on what is needed to pass the first inspection. Our 10ga thick woven wire cages meet OCM, DEA requirements. OCM Cannabis Storage cages need to be 4 sided with a ceiling. The cage needs to have no sweep space (gap on the floor).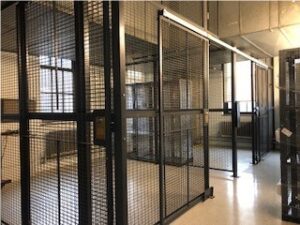 Doors can be hinged or sliding, Doors must have a cylinder lock. Programmable locks can also be installed with card swipe, Push button or key fob access. Doors must be self closing. Ceilings must also be manufactured with 10ga woven wire cage panels. All anchors, Fasteners must be spot welded to prevent access.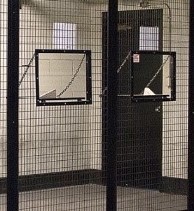 Cannabis Storage Cages can also have locking service windows to pass inventory through. Each window is 24″ wide x 21-1/2″ high. Each window has an exterior counter top for paperwork. Cage sizes can be built as needed in the widths, depth and height needed with our standard in stock  OCM compliant cage panels and doors.
Contact us today for immediate assistant with your Cannabis Cage needs. Our Office is open Monday through Saturday 7AM – 7PM Sales@LockersUSA.com
NY OCM Compliant Cannabis cage, Cannabis Vault Cage NY, DEA Cannabis Cage NYC, NY OCM Cannabis Cage Bronx, NY OCM Cannabis Cage NYC, NY OCM Cannabis Cage Queens NY, NY OCM Cannabis Cage Staten Island, NY State OCM Cannabis Cage,