Building Access Cages Philadelphia. Secure building entrances so that unauthorized visitors cannot roam around your facility. Proudly serving Philadelphia and surrounding Pennsylvania facilities since 1909. Free Code Compliant Layouts and quote six days a week.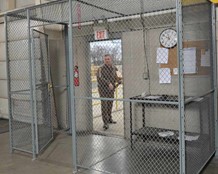 delivery entrance cages stocked with 3′ and 4′ wide hinged doors in the height needed. Lock options include cylinder locks, programmable locks in card swipe, push button and key fobs. Push bars on the interior side of the door are recommended can be preinstalled on request. Electric strikes or Mag locks can be provided to keep the door locked, It can be opened remotely with a button. Our Philadelphia Techs provide complimentary layouts daily.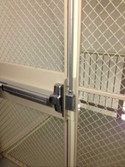 Building Access Cages in Philadelphia can be installed to any size needed with our prefab modular welded wire cage panels.
Typically only two welded wire cage panels and a door is required to secure the entrance. Ceiling in the same welded wire material can be added.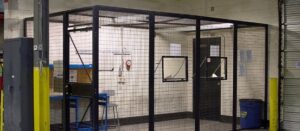 Delivery entrance access cages can also be be provided with locking service window kits with counter that allow packages to be accepted through the service window without opening doors into your facility. Our service windows come with an exterior counter to have paperwork signed.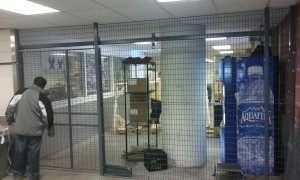 Our Philadelphia Distribution Center also stocks Welded Wire Lockers in 25 sizes.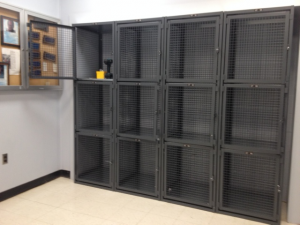 Ideal for providing secure, visual storage. Widely used by Service Techs to store their daily work orders, parts and equipment. Available in various sizes with single, double and three high stacked doors. Delivered assembled ready to use. Welded wire lockers can have a welded wire back or full height door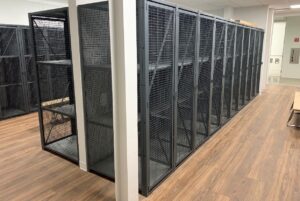 for quick access and loading to each locker from the rear. Each locker and door is framed welded with a welded hasp for padlocks. Contact us today for immediate assistance. Sales@LockersUSA.com
Building Access Door Cages, Building Access Cages Philadelphia, Building Access Cage Doors Philadelphia, Driver Cage Doors Philadelphia, Building access door cages New Jersey, Welded wire lockers Philadelphia PA, Technician Lockers Philadelphia, Service Tech Lockers Philadelphia PA,