Cannabis Cages Bronx.  NY State OCM and DEA Compliant welded wire storage cages in the Bronx for Retail and Medical Dispensaries.  Become Cannabis storage inventory compliant the first inspection.  Our Techs take the stress out of becoming code compliant. Our team knows how hard you've worked to receive your dispensary up and running. Eliminating costly delays when selecting the correct cannabis cage that meets your current and future inventory needs.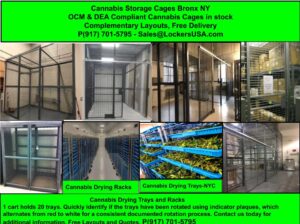 Built to last at the lowest overall cost. Cannabis Cages in the Bronx are required to be 10ga welded wire or thicker, four sided, with no sweep space along the cage floor.  Ceilings and self closing doors are required, All hardware must be spot welded.  Doors stocked in single doors hinged or sliding, double doors hinged or sliding. Sizes range from 3'w to 12′ wide.  LockersUSA.com NYC provides a range of lock systems based on your specific preference. Programmable locks with card swipe, push button, Mag locks, Electric strike locks. Interior push bars can be preinstalled. Powder coat color options range from Grey, Black, Blue, Safety Yellow. Our NYC distribution center provides Complimentary on line or onsite Code Compliant Layouts in the Bronx and all of New York. Feel free to use our online form in the ling above or contact us for immediate assistance. P(917) 701-5795.
No matter how much space is dedicated to Cannabis inventory, It will not be enough if the interior of the cage shelving or racks are not designed to maximize the space to provide the most amount of storage. Our Bronx Techs can also provide complimentary storage layouts that can increase the cannabis storage inventory by up to 50%.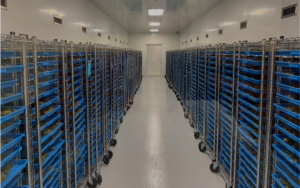 Utilizing available height is also key within the cage. Contact us today for immediate assistance. Sales@LockersUSA.com
Cannabis Cages Bronx, OCM Cannabis Cages/Vault NYC, DEA Cages NYC, Storage Cages Bronx NY, Cannabis Cages for sale NY, Welded wire Storage Cages Bronx,
Cannabis Storage Cages delivered free to Bronx NY, NYC, Brooklyn, Queens, Staten Island, New York State.