Tenant Storage Cages Williamsburg. Brooklyn's Largest Tenant Storage Cage inventory. Proudly serving Brooklyn since 1909. Complimentary layouts. Lowest overall cost, Generates excellent revenue. Manufactured with 4ga welded wire steel which is more than double the wire thickness of 10ga. Stocked in rust resistant galvanized steel and powder coat gray or black.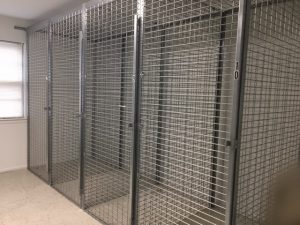 Tenant Storage Cages Williamsburg stocks full height – wall in tenant storage cages and Double tier – Stacked tenant storage cages. Both extremely popular in Brooklyn. The type of tenant storage cage is usually determined by the number of residential units on the building and the available space in the tenant storage room. When space allows most developers provide a mix of large tenant storage cages for multi bedroom units and double tier for studio's or residents content with a smaller tenant storage cage. Tenant storage cages range in size from 3'w x 3'd x 7'h, 90″h or 8'h, larger units up to 8′ wide x 10'd x 12′ high are also stocked in Brooklyn. Each of our stock tenant storage cages has a welded hasp for padlocks or cylinder lock with keys and full height anti – theft lock bars.
Tenant Storage Cages Williamsburg generates excellent revenue. Most developers, Landlords, Co-op and Condo boards charge a monthly rental fee for onsite storage ranging from $85.00 to $300.00 per month depending on the size. A  residential building with 60 tenant storage cages renting out on average for $95.00 per month will generate $68,400.00 per year. The ROI is very quick averaging just 7-8 months from LockersUSA of Brooklyn.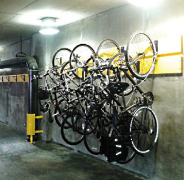 Also stocked in Williamsburg is our wall mount bike brackets. Designed to ma\maximize bike room space. #42488 wall mount bike brackets allow bikes to be spaced just 12″ apart when space is tight. Manufactured with cushion coated power coat steel in a shiny black finish. Attached to each #42488 bike bracket is a five foot long cushion coated security cable that can be wrapped around the bike frame, both rims and secured with the bike owners lock.
Our office is open six days a week 6AM – 8PM contact is today for immediate assistance. Sales@LockersUSA.com or P(917) 701-5795 call or text.
Tenant Storage Cages Brooklyn, Tenant Storage Lockers Brooklyn, Tenant Storage Cages Williamsburg, Tenant storage Brooklyn. Tenant Storage cages Brooklyn 11249.