Tenant Storage Cages Old Bridge. Complimentary Layouts, Stocked locally, Revenue Generator, FREE DELIVERY. Tenant Storage Cages are ideal for Condo's, Townhomes and Apartment buildings for storage for residents usually located in the basement or adjacent space, previously under utilized. LockerUSA's tenant storage lockers have key features that bring them to the top when buying storage cages. Phone (917) 701-5795.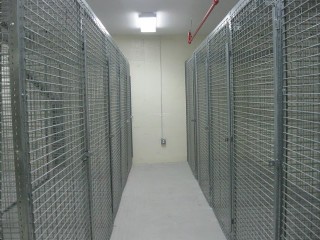 Our galvanized steel lockers are attractive and enhance the storage room. Made with galvanized steel 4ga with all welded grid openings, full height lock bars, welded hasps or cylinder locks and optional tops, bottoms and backs. LockersUSA all welded wire storage cages are twice as thick compared with other makes today ours are 4ga while other brands are 10ga.  Tenant Storage Cages are typically installed directly to the rooms existing walls and floors. Backs, Floors, Shelves and tops can also be included. Tenant Storage Cages off the wall come with backs in the same material and color.  Tenant Storage Cages Old Bridge generates excellent revenue. Today most condo buildings, town homes, apartment complexes charge a monthly rental fee for onsite storage. Ranging from $65.00 to $150.00 per month depending on the size. A residential building renting our 50 tenant storage cages at $65.00 per month on average will generate $39,000 per year in revenue. The Cages would pay for themselves in 7-8 months on average. (ROI_ Return on investment).
LockersUSA stocks our tenant storage cages locally. Our team provides complimentary  layouts, professional installations, 5 year warranty not only on our tenant storage lockers but our labor is warranted also. All at the lowest overall cost. LockersUSA also stocks stocks space efficient – user friendly bike racks and security cages. Contact us today for immediate assistance. Sales@LockersUSA.com or P(917) 701-5795

Tenant Storage Cages Old Bridge, Tenant Storage Lockers Old Bridge, Security Cages Old Bridge. Tenant Storage cages delivered daily to Old Bridge NJ 08857, Spotswood, Marlboro, Manalapan, East Brunswick, all of New Jersey.
Tenant Storage Cages Old Bridge