Tenant Storage Cages Murray Hill. Generate good revenue. Free on site layouts, Lowest cost, Lifetime Warranty. Tenant storage cages in Murray Hill and surrounding neighborhoods generates good revenue in residential and office buildings.  Depending on the size of storage cages. Rental rates range from $90.00 to $200.00 per month. Some buildings sell the tenant storage cages at the same cost per square foot as they apartments cost. If a building has 40 storage cages renting out at $125.00 per month. The storage units will generate $60,000.00 per year in maintenance free revenue.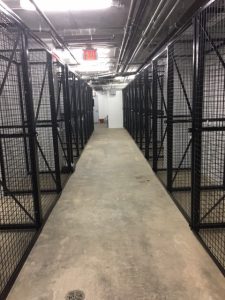 Our team provides cost saving, code compliant layouts 6 days a week. Tenant Storage Cages are stocked in Manhattan in Single Tier – Walk in type and Double Tier – Stacked on locker above another in 8 standard sizes. Tenant Storage cages are stocked with hinged doors 3′ wide or 4′ wide with welded hasps for padlocks or cylinder keys.
4ga Galvanized steel cages are also stocked locally. Priced the same as 10ga, But the welded wire is twice as thick providing added security.
LockersUSA.com also stocks wall mounted bike brackets that have been designed to allow bikes to be stored just 12″ apart. Made with all welded steel with a durable shiny black powder coat finish. Each bracket comes with a 5′ long cushion coated security cable that can be wrapped around the bike frame, Both rims and secured with the bike owners lock. Providing bike storage in Residential buildings also generates revenue averaging $25.00 per month in NYC.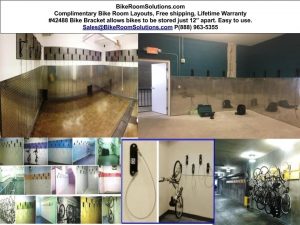 Our office located in Yorkville NYC is open s6 days a week. Contact us today for immediate assistance. Sales@LockersUSA.com or P(917) 837-0032.
Tenant Storage Cages Murray Hill, Tenant Storage Lockers Murray Hill, Storage Cages NYC 10016. Tenant Storage Cages NYC 10016, Basement Cages NYC.