Tenant Storage Cages Fulton St NYC. Complimentary layouts, Lowest overall cost. Lifetime Warranty, Generates Good Revenue. Stocked in New York City in Powder coat Black, Gray and Rust Resistant Galvanized in two popular types, Single Tier – Full height and double tier stacked in 12 standard sizes popular in NYC.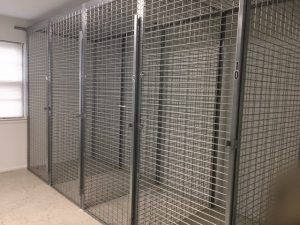 Single Tier – Full Height Lockers range in standard sizes from 3′ wide to 12′ wide x 6′ high, 7′ high, 90″ high and 8′ high. Lock options include welded hasps for padlocks or cylinder locks. Typically most residential buildings attach tenant storage cages directly to the rooms walls and floors. Tops, Floors, Shelves and backs can be added. Center aisle tenant storage cages have common backs.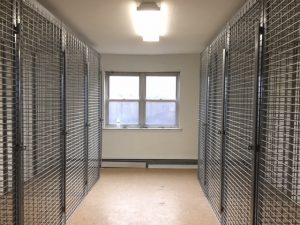 Manufactured with 4ga welded wire (more than double the welded wire thickness of 10ga) 4ga provides double the security at no added cost.  Our team provides complimentary tenant storage room layouts six days a week. Either on line or onsite. Sales@LockersUSA.com or P(917) 701-5795.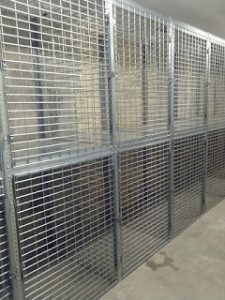 Tenant Storage Cages Fulton St NYC generates excellent revenue. Today most developers, Landlords and Co-op and Condo boards charge a monthly rental fee for onsite tenant storage ranging from $125.00 to $350.00 per month depending on the size. A residential building renting out 50 tenant storage cages at $125.00 per month will generate $76,500.00 per year in revenue. The ROI (Return on investment) is very quick averaging just 7-8 months.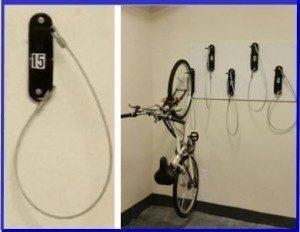 LockerUSA also stocks Wall Mount Bike Brackets in Manhattan. Designed to allow bikes to be spaced just 12″ apart when space is tight. Manufactured with cushion coated powder coat steel with a shiny black powder coat finish. Space Saving, Easy to use, With a lifetime warranty.  Our team provides complimentary bike room and tenant storage layouts daily in the five Boroughs. Contact us today for immediate assistance. Sales@LockersUSA.com or call us P(917) 701-5795.
Tenant Storage Cages Fulton St NYC, Tenant Storage Cages NY NY 10038, Tenant Storage Lockers NYC 10038, Wall Mount Bike Brackets NYC 10038, Tenant Storage New York City.