Tenant Storage Cages Fishtown Philadelphia. Proudly serving Philadelphia since 1909.  Complimentary Layouts, Stocked Locally, Lowest Cost, Lifetime Warranty. Generates excellent revenue with fast ROI.  Built to last in Rust Resistant Galvanized or Powder coat black or gray. Manufactured with 4ga welded wire. Each Tenant Storage cage has a Anti Theft Lock Bar,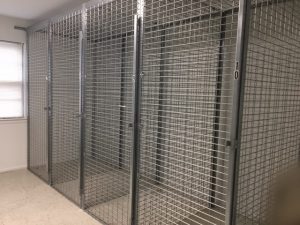 Welded hasp for padlocks or cylinder locks. Lockers range in size from 3′ wide to 5′ wide with 3′ wide hinged doors and 4′ wide hinged doors.  Larger cages can easily be assembled with our modular stacking panel design. Our crews work in Philadelphia six days a week. Code compliant complimentary layouts available daily either on line or onsite.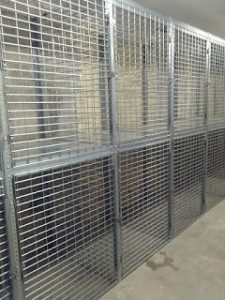 Tenant Storage Cages Fishtown Philadelphia generates excellent revenue, Today most developers, landlords, Apartment complexes and condo board charge a monthly rental fee for tenant storage cages ranging from $75.00 to $150.00 depending on the size. A basement with 60 cages renting out for $75.00 per month on average will generate $54,000.00 per year in maintenance free revenue. The ROI is quick averaging just 7-8 months.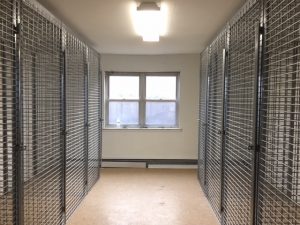 LockersUSA.com also stocks in our Philadelphia warehouse, Security Cages, Colo – Data Room Cages, DEA Cages, Perimeter cages, Machine Guarding Safety Fence and Robotic Caging enclosures. Widely use in residential buildings, office buildings, parking garages and hotels in Philadelphia is our Wall Mount Bike Brackets. #42488 designed to allow bikes to be stored just 12″ apart. User friendly, lockable. Manufactured with powder coat steel in a shiny black finish, cushioned – no mar finish.
Attached to each #42488 wall mount bike bracket is a five foot cushioned coated security cable that can be wrapped around the bike frame, Both rims and secured with the owners lock. If your in need of a bike room or if your existing bike room is over crowded contact us. Our bike brackets typically increase bike storage space up to 50% over traditional bike storage while keeping the floor clear for easy passage and reduced liabilities.
LockersUSA has warehouses in NYC, New Jersey and Philadelphia. Contact us today for immediate assistance.
Tenant Storage Cages Fishtown Philadelphia, Tenant Storage Cages Philadelphia Tenant Storage Lockers Philadelphia PA, Security Cages Philadelphia, Wall Mount Bike Brackets Philadelphia PA, Wall Mount Bike Racks Philadelphia PA. Storage Cages.