Equipment Cages NYC. Store equipment and inventory with all welded locker cages. Stocked in NYC in 3 Tier (stacked) Single Tier (full size door) and two tier (stacked) All welded steel framed and grid openings in either 4ga galvanized steel or 8 gage welded wire in powder coat finish. Standard sizes 24″ x 24″, 3×3, 4×4. Comes with welded hasp or steel encased cylinder locks.  Ideal for Business, Hotels, Retail, Medical, Schools, Business, Law Enforcement and Military.  Our Equipment cages can be delivered assembled or built at your location. LockersUSA provide complimentary layouts, Professional installations. 5 year warranties.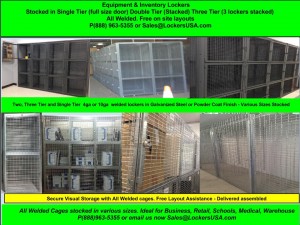 LockersUSA provides complimentary onsite layouts to New York City, Brooklyn, Queens NY, Staten Island, New Jersey, Long Island and Westchester. Our inventory cages is widely used by  Phone and internet providers, Utility Providers,  Hotels and restaurants, and retail companies. Equipment lockers provides secure visual storage without the need for additional lighting, temperature controls or additional fire sprinklers.
Contact us now for immediate assistance. P(888)963-5355 or Sales@LockersUSA.com
Equipment Cages Lockers New York City, Dispatcher Lockers New York City daily deliveries to NYC, Brooklyn, Queens NY, Staten Island, Long Island, Westchester.