Conveyors Machine Guarding Safety Fence NJ. Protect employees, Prevent Injuries, Fines and Liabilities. Become Code Compliant today, Complimentary Layouts, Quick Quotes, Stocked in New Jersey, Free delivery, Professional Installations. Proudly serving NJ, NY and Philadelphia since 1909 from our 109,000SF facility.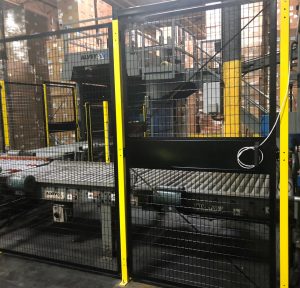 Conveyors Machine Guarding Safety Fence stocked in 3 standard heights  Not sure if Compliant, We can help.  Enclose automated machinery and protect workers with Machine Guard Conveyor Safety Fence. Manufactured with Code Compliant welded wire panels and doors.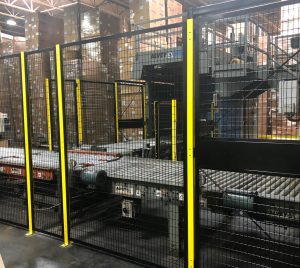 With all welded in either 2" x 2" 8ga or 1-1/2″ x 2-1/2″ grid openings and framed with 1-1/2″ x 1-1/2″ 14Ga steel angle frames. Machine Guarding Powder Coat Posts are 2" x 2" x 14ga with 2" x 6" welded foot plates.
Door Locking Options Include. Snap Locks, Cylinder Locks, Cam Locks, Interchangeable Cores, Standard Handle, Push button and Interlocks.