Security Cages SOHO. Howard St NYC. Storage cages, Inventory Cages, Loss Prevention Cages in stock. Proudly serving NYC since 1909. Complimentary Layouts, Professional Installations, FREE DELIVERY. Secure inventory, Create walls with welded wire security cages. Manufactured with welded wire 8ga galvanized steel with all welded wire mesh grid openings.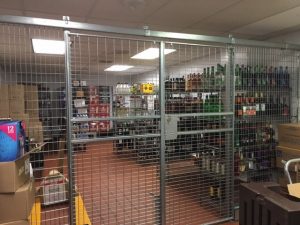 Also stocked in medium gloss black and gray. Doors stocked in hinged or sliding from 3′ wide to 10′ wide. Sliding doors are recommended if aisle space is tight. Our modular stacking cage panels allows us to create storage cages cost effectively. Save on security cages by incorporating the rooms back and or side walls to reduce the number of sides or backs needed. Our SOHO NYC office provides Complimentary Layouts either online or on site. Feel free to use the form in the link above or email us for immediate assistance. Sales@LockersUSA.com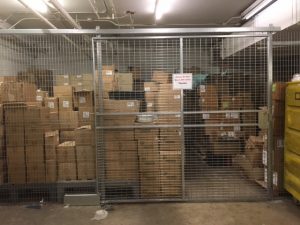 Security Cages SOHO stocks doors with welded hasps for padlocks, cylinder locks, push button locks, card swipe or we can prep the door to your lock system. Additionally interior push bars, electric strike locks, magnetic locks can also be included. Cages can go as high as 48′. most NYC cages are 7-8′ high with or without ceilings in the same material and color. Security cages are ideal to secure inventory. Providing visual secure storage without the need for additional lighting, HVAC or sprinklers. Contact us today for immediate assistance P(917) 701-5795 our SOHO office is open Monday – Saturday 7AM – 7PM.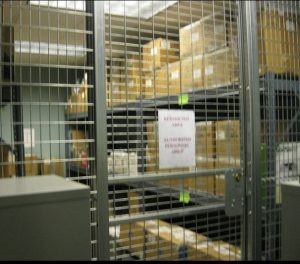 Also stocked in our facility is shelving and pallet rack in 5 powder coat colors.
Our team provides shelving and rack space saving layouts daily.
Security Cages SOHO, Security Cages NYC 10012, Security Cages NYC 10013, Security Cages NYC, Inventory Cages NYC, Storage Cages NYC, Loss Prevention Cages NYC, Bulk Storage Cages NYC, Security Fence NYC,  Security Cages Delivered daily to New York City, (NYC) Brooklyn. Queens, Bronx, Staten Island.
34 Howard Street NYC 10013