Security Cages W 34th St NYC. Welded Wire security cages. Ideal to secure inventory, Create perimeters, Enclose equipment. Stocked locally, Free layouts, Lowest overall cost. Lifetime warranty.  Security Cages stocked in 8ga galvanized steel with all welded grid openings and six welded wire powder coat colors.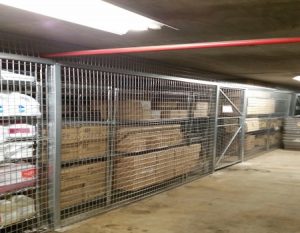 Doors stocked in hinged, sliding, double hinged or double hinged – bi parting slide. Framed welded wire doors are stocked from 3′ wide to 12′ wide. Standard locks included – cylinder with 2 keys. Magnetic locks, push button, card swipe and key fob locks can be delivered with the doors. Standard heights for security cages is 7′ high, 8′ high, 10 ' high and 12′ High. Heights to 24' high are easy to achieve with our modular stacking design or ceilings can be added to any height security cage.  Security Cages W 34th St NYC are being used to secure musical instruments, record storage, Photography Equipment, Liquor cages in hotels and restaurants, DEA Cages at a pharmaceutical company and to enclose servers for a large internet provider. Recently a Broadway Theater called us requesting layouts for 8 cages to be used in an underutilized upper floor. Each day vendors were making deliveries of beverages, souvenirs, food and snacks.  Getting all the deliveries in before the curtain rose was becoming a challenge.   The vendors now utilize large security cages on site to store up to 1 months inventory. The theater also generates revenue by renting the security cages out monthly.  The cages paid for themselves within 5 months. Our office is open Monday thorugh Friday 7AM to 5PM and Saturdays 8AM to 2PM. Contact us today for immediate assistance. Sales@lockersUSA.com or P(917) 701-5795.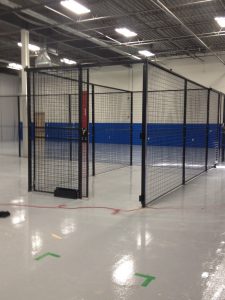 Our team provides complementary code compliant layouts six days a week.
Security Cages commonly referred to as welded wire cages, woven wire partitions cages, storage cages, Liquor cages, tool crib cages, Medical Marijuana cages, DEA Pharmaceutical cages, Machine Guarding Cages, Robotic caging, Robotic cell guard cages, Safety cages, equipment enclosures, Loss prevention cages,
Security Cages W 34th St NYC, Security Cages New York City, Security Cages NY NY 10001. Security Cages delivered throughout NYC daily including Brooklyn, Bronx, Queens, Staten Island, New Jersey, NJ.
Location: W 34th St NYC 10001