Security Cages Secaucus. Complimentary layouts, Lowest overall cost, Lifetime warranty. Stocked locally. Protect employees, Secure inventory and equipment. Manufactured with 8ga steel in rust resistant galvanized or 5 powder coat colors.  Good selection of doors from single sided hinged doors, Single sided slide doors, Double hinged doors and double bi parting slide doors from 4′ wide to 12′ wide. Lock options include welded hasps for padlocks, cylinder locks, card swipe, push button, key fob or IC Cores to match your existing system. Optional Electric strikes, mag locks, interior push bars and automatic closers can be delivered with the security cage. Free layouts six days a week P(732) 701-5795.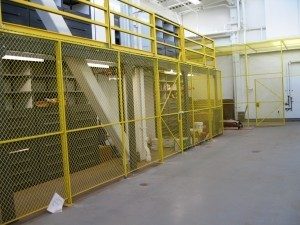 Our modular design allows for easy installations up to 24′ high. or ceilings can be added with the same 8ga material with all welded grid openings. Security cages can also be delivered with service windows in solid steel or welded wire mesh. 18-1/2″ wide x 24′ high with drop pin locks at the bottom of the window frame and top. The service window come with a ledge.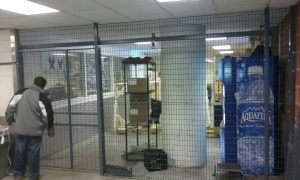 Security Cages Secaucus also stocks Machine Guarding Safety Fence, DEA Cages, Server Cages, Data Room Cages, Tenant Storage cages and Conveyor Guarding cage. Free layouts either online or onsite six days a week.  Budget can be reduced on security cages when incorporating existing back and or side walls, Reducing the cage purchase from 4 sided to two or three side. Our complimentary layout and quote will provide all cost saving suggestions possible without reducing security.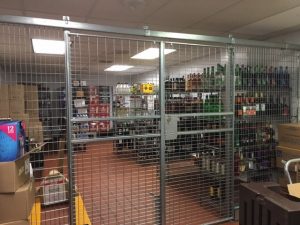 Security Cages Secaucus generates revenue. Buildings with extra space can generate good revenue by adding security cages and renting the space to contractors, other tenants or vendors. IE: a 8'h x 8′ w x 8'h security cage in the Secaucus area can generate $300.00 per month in revenue. A space with 10 cages would generate $36,000.00 per year in revenue. payback on the investment (ROI) is very quick averaging just 7-8 months.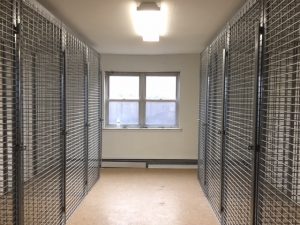 Tenant Storage Cages also generate excellent revenue. Most developers, Landlords, Condo boards and Apartment Complexes today charge a monthly rental fee for on site tenant storage. In the Secaucus area Tenant Storage rents out from $65.00 to $150.00 per month and higher depending on the size. A residential building with 60 cages renting out at $95.00 per month on average will generate $68,400.00 per year in revenue. Average return on investment (ROI) is just 7-8 months.
Contact us today for immediate assistance. Sales@LockersUSA.com or P(917) 701-5795.
Security Cages Secaucus, Tenant Storage Cages Secaucus, Storage Cages Secaucus, DEA Cages NJ, Machine Guarding Safety Cages NJ, Machine Guarding Conveyor cages NJ. Security Cages delivered daily to Secaucus, Newark. Jersey City, Paramus, Clifton, Paterson, Linden, Elizabeth, Bayonne, Kearny, Harrison, Union City, North Bergen, West New York, East Rutherford, all of New Jersey.