Security Cage Piscataway. Proudly serving NJ since 1909. Welded wire security cages stocked locally. Complimentary Layouts, Professional Installations, Free Delivery. Security Cages to secure inventory a restrict access by unauthorized employees and visitors. Stocked in Woven Wire and Framed Welded Wire in 8ga, 10ga thick. In Powder coat Grey, Medium Gloss Black and Rust resistant Galvanized. Doors stocked in single hinged, double hinged, single slide and bi parting double slide, From 3′ wide to 12′ wide. to the height needed. Lock options include cylinder locks, welded hasp for padlocks, Programmable locks in card swipe, push button, key fob up to 200 users. Additionally Mag locks, Electric strikes, Interior push bars and automatic door closers can be included.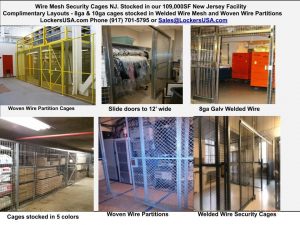 Cost can be reduced by including the rooms existing rear and or side walls. Ceilings can be added or the security cage can be installed to the ceiling height. Please note security cages to the ceiling, Depending on the height and overhead obstacles (HVAC, Sprinklers, Piping etc) would create additional cost from all manufactures. Security Cages in Piscataway have been installed to secure inventory, DEA Pharmaceutical Cages,  Tool Cribs, Enclosing perimeters, Server Cages and Colocation Cages, Driver entrance cages and Machine Guarding Safety Fence to enclose equipment, Moving machinery and conveyors. Contact us for a Complimentary Layout Phone (917) 701-5795 or Sales@LockersUSA.com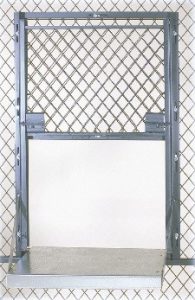 Locking sliding Windows can be installed in new cages or existing cages to pass through material without opening the doors. For cages with multiple doors request either keyed alike or keyed different. Master Keys can also be included.

Our Local Facility is open Monday – Friday 7AM – 6PM and Saturdays 7AM- 4PM.
Security Cage Piscataway, Security Cages Piscataway, Server Cages Piscataway, DEA Pharmaceutical Cages Piscataway NJ, Colocation Cages Piscataway, Tenant Storage Cages Piscataway, Wire Mesh Security Cages Piscataway NJ.