Philadelphia Security Cages. Complimentary Layouts, Stocked in Fishtown, Professional Installations. Proudly serving Philadelphia since 1909. FREE DELIVERY. LockersUSA.com Philadelphia branch stocked Security Cages, Server Cages, Tenant Storage Cages, DEA Cages, Machine Guarding Safety Fence and Robotic Guarding Cages. Doors available in single hinged, single slide, double hinged, bi parting pair slides from 6′ high an up. Lock options include welded hasps for padlocks, cylinder locks, card swipe, push button, electric strikes or magnetic locks. Interior push bars and Automatic door closer can be added.
Our Philadelphia team provides complimentary layouts either online or onsite Monday through Saturday. Feel free to use he link above or contact us for immediate assistance Sales@LockersUSA.com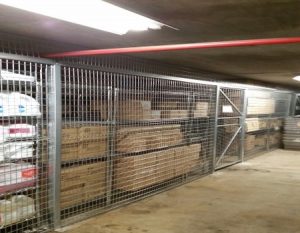 Philadelphia Security Cages prevent unauthorized access, missing inventory and Generate revenue. Some buildings with underutilized basement space rent our security cages to tenant, Local contractors and vendors. Security Cage rentals range from $125.00 per month to $600.00 depending on the size. Buildings with 10 cages renting out for $400.00 per month on average will generate $48,000.00 per year in revenue. The cages pay for themselves in 7-8 months. Locks for each cage can be keyed alike, keyed different or keyed different with master keys.
Our Philadelphia branch also stocks Tenant Storage Cages in single tier – full height and double tier – stacked. Sizes range from 3'w to 8′ wide x 3′ deep to 8′ deep with hinged doors 3′ wide or 4′ wide. Each tenant storage cage is manufactured with 4ga welded wire in rust resistant galvanized, powder coat gray or black. Attached to each door is a full height anti-theft lock bar for added security. 4ga welded wire is more than double the thickness of 10ga.
Tenant Storage Cages in Philadelphia generate excellent revenue. Today most developers, landlords, condo boards and apartment complexes charge a monthly rental fee for onsite storage ranging from $65.00 to $250.00 per month. Residential buildings with 40 cages renting out for $125.00 on average will generate $60,000.00 in revenue. The ROI (Return on Investment) average 7-8 months. Our team provides complimentary layouts daily. Sales@LockersUSA.com
Philadelphia Security Cages, Wire Mesh Partitions Philadelphia, Security Cages Philadelphia, Security Cages Philadelphia PA, Woven Wire Partitions Philadelphia, Tenant Storage Cages Philadelphia.